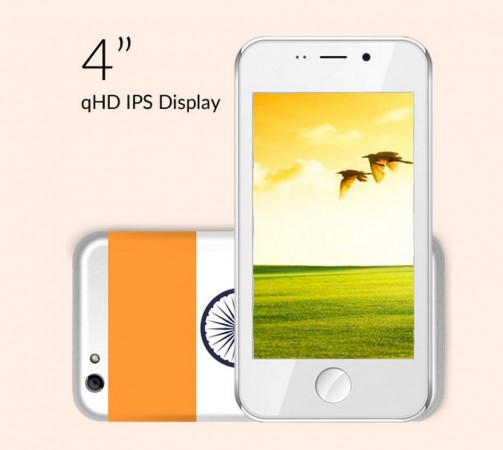 Ringing Bells launched Freedom 251 for just Rs. 251 Wednesday, Feb. 17, catapulting this relatively unknown smartphone maker from Noida to the world stage.
However, Ringing Bells' Freedom 251 cheap price tag has caught the attention of mobile industry body Indian Cellular Association (ICA) for all the wrong reasons. Citing serious suspicion over the price of the device, they have shot a letter to Union Telecom Minister Ravi Shankar Prasad to verify the credentials of Ringing Bells.
"There is no known model of a subsidy like this that a Rs 4,000-Rs 5,000 phone can be sold at bRs 251," PTI quoted Pankaj Mohindroo, president, Indian Cellular Association, as saying.
"If there is something shrouded in secrecy or non-transparency, then the appropriate authorities will get to bottom of this." Mohindroo added.
Freedom 251 was believed to be subsidised by the Central government like the Aakash tablet made by DataWind. But Ringing Bells officials have confirmed that the government has no part in the making and selling of the Freedom 251, thus inviting wrath from ICA.
"We don't think it is a sustainable business model at all. Even if it's a marketing ploy it is going to backfire in a big way. I think the big disconnect here is inability to understand the diverse set of end users and their needs which is more inclined towards 'value for money' instead of 'cheap' or just low price. This has costed companies in the past a fortune of their time, money and brand value be it Tata Nano or Mozilla's firefox," Tarun Pathak, Senior Analyst, Counterpoint Technology Market Research, told International Business Times, India.
"It is true that a massive shift in India is happening from feature phones to smartphones but that shift brings with itself a level of expectation- expectation of consuming content, expectation of watching videos and listening to music for longer time and hence need for better hardware features. To accommodate these features, Industry has reached a certain level of price point which is currently $50-$60 but packing something similar in $4 is something which is not possible as of now," he added.
Pathak also worries that if buyers are not satisfied with Freedom 251's (or any other cheap smartphone brand) user-experience, they may revert to feature phones and end up hurting smartphone growth in India.
We already have come across several anomalies in Ringing Bells' Freedom 251 with regard to phone's real brand and the features. We found that review units sent to some media houses were actually different from what Freedom 251 appears on the company's website.
The review unit's home button is circular in shape like Apple iPhones, whereas the device posted on the website showed very small square shaped capacitive button. This anomaly was rectified once word got out in the media, but we have photo evidence to corroborate the difference.
Another accusation on Freedom 251 is that the device is a rebranded variant of Adcom's (A New Delhi-based importer of IT products) "Ikon 4" phone.
Also read: Key features of Freedom 251
Review units sent to all the media houses reportedly comes with whitener patch on top (just below the speaker), which is said to conceal the Adcom engraving.
We tried getting in touch with the media representative of Ringing Bells and are yet to receive a response.
Watch this space for more updates.
­­­