Three years and 35 days have passed since that day, yet the memories of Virat Kohli almost single-handedly haring down an improbable Indian chase in the fourth innings of a Test match at Adelaide resides fresh in the mind; and attached with it are a lot of regrets that refuse to go away.
Even an hour into the third session on 13 December 2014, Kohli had kept India in the game and in contention for a historic victory in his first Test match as captain but he fell short and so did India.
Eusebio in the '60s; Sachin Tendulkar in the '90s; Lionel Messi in the 2000s – all great men have fallen short against 11 opponents because one man, no matter how ethereal he is in his abilities, will never be enough to win a battle.
Kohli, with his performances in India's unsuccessful tours to Australia, South Africa, and England, has beyond reproach, fallen into the category of the glorious who needed support.
In the tour to England and previously to South Africa, Kohli had not only outscored his teammates, but also his compatriots by a good margin. However, there was very little support that came his way from his teammates.
Kohli had scored 286 runs in six innings in South Africa and the next five batsmen in the top-scorers' chart were all Protean. The series went 2-1 in the host's favour. In England, Kohli scored a remarkable 593 runs in 10 innings and once again, there was not any significant contribution from his teammates. The series went 4-1 in favour of the hosts.
With almost nothing to show for the self-acclaimed tag of the best travelling Indian team in the last 15-20 years, it seemed as though those propagating such ideas were arrogant, if not delusional.
As Kohli visits Australia four years wiser, he will know, more than anyone else, that this time, it cannot be Virat Kohli vs the opposition – not after the tours to South Africa and England. For once, it has to be India vs Australia; and if it is not, hope will once again give way to bitter disappointment, like it did in South Africa and England.
In fact, the last time India met Australia, Kohli could hardly buy a run and yet India won the series at home. There were defining moments in their victory and none of them came from Kohli's bat; the men who stood tall in that series with willow in hand were Cheteshwar Pujara, KL Rahul and Ajinkya Rahane.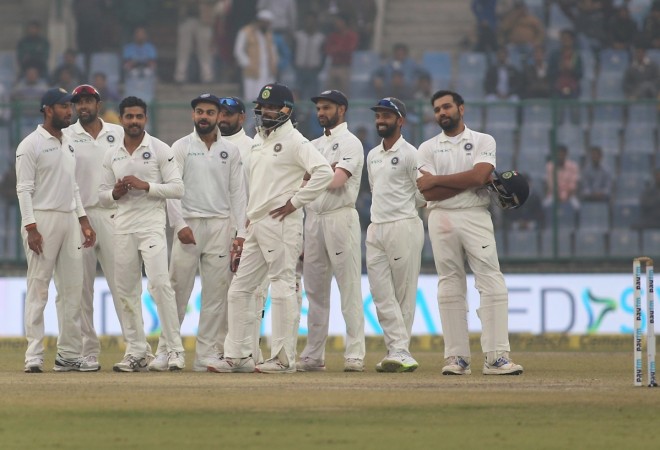 Like in that series, India needs other heroes. Kohli will no doubt be the lead Down Under and given his current form, it will be a surprise if he doesn't, but he needs his teammates to make sure this summer in Australia becomes a successful multi-star series.
So as he walks into the dressing room on match eve, he will have to look his cavalry – each one of them – straight in their eyes and tell them...
"Forget Virat Kohli. It has to be India vs Australia!"
Disclaimer: The views expressed in this article are the author's alone and do not necessarily reflect the views of International Business Times, India.