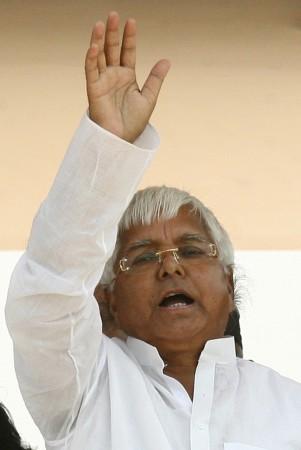 Rashtriya Janata Dal (RJD) chief Lalu Prasad Yadav, who was convicted in a 17-year-old fodder scam case, has been sentenced to five years in jail by a special CBI court on Thursday. The court also slapped a fine of ₹26 lakh on the former Bihar Chief Minister.
On 30 September, Lalu, Jagannath Mishra and 43 others were convicted of fraudulently withdrawing ₹37.70 crore from Chaibasa district treasury between 1993 and 1995, in the fodder scam case RC 20 A/96. The district currently lies in Jharkhand after the division of Bihar in 2000.
The Central Bureau of Investigation had proven before the special court that the documents, showing the money spent on medicines and feed for the cattle, had been forged.
The sentence was pronounced via video conferencing on Thursday. Former Bihar CM Jagannath Mishra and Janata Dal United (JDU) leader Jagdish Sharma were sentenced to four years in jail each.
The quantum of punishment under which the RJD supremo was convicted, attracts imprisonment of up to seven years with a minimum of four years.
"We argued that he (Lalu) be awarded strictest punishment so that it be a lesson for others," BMP Singh,CBI Lawyer told ANI. Lalu's lawyer Surendra Singh had appealed for a three-year jail term.
"We will appeal to the High Court and also appeal for his bail," said RJD leader Raghuvansh Prasad Singh.
As a Supreme Court judgment of 10 July ruled that convicted legislators will be immediately disqualified from their posts, Lalu will also cease to be a Lok Sabha member from Saran. The convicted MP will not contest in elections for six years.
Lalu is currently been lodged at the Birsa Munda Central Jail. He had asked the CBI court to retain his Z+ security cover in the prison but was turned down.
Latest Reactions
Giriraj Singh, BJP leader: "There will be no lack of votes in Lalu's account; moreover, they are likely to increase," he told ANI adding, "Now nobody can save Nitish Kumar from being convicted as he is one of the accused in the fodder scam case. He has not been convicted as of yet but he is surely to end up in jail."
Sabir Ali, JDU leader: "Don't think it will affect Bihar politics much but it will certainly affect party(RJD)."
Sushil Kumar Modi, BJP leader: "The man who once mesmerised the poor people & became their Messiah has been convicted in fodder scam for 5 yrs with a penalty of 25 lakh."
Manoj Jha, RJD leader: "This will strengthen the solidarity amongst our cadre and the party, Lalu ji will remain our leader."
Kiran Bedi, social activist and former IPS officer: "Lalu gets 5 yrs in jail with fine!But what about gains of crime?Crores lost whose benefit he had all these past years?Those too be recovered."
Mukhtar Abbas Naqvi, BJP leader: "Laluji's journey from stuggle,politics and the jail term is a message as well as a lesson for the others."
Jagdambika Pal, Congress leader: "This will act as a deterrent for the political parties in future."