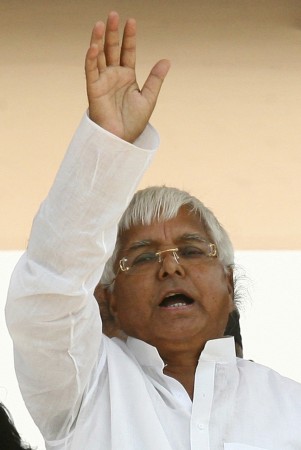 Rashtriya Janata Dal (RJD) MP Prabhunath Singh on Monday has welcomed the conviction of party chief Lalu Prasad Yadav in the fodder scam saying it is beneficial for the party.
"Whenever Laluji goes to jail, the party becomes stronger. After his 1977 campaign against the Emergency, he became an MP. He came to power for the third time in Bihar after going to jail. We want him to go to jail, let him go...now we will come back to power in Bihar," Singh was quoted as saying by NDTV.
The RJD chief was convicted in the multi-crore fodder scam on Monday. He was arrested and is currently lodged in Birsa Mundal central jail in Ranchi, Bihar.
Since the cabinet-proposed ordinance on negating Supreme Court's order on convicted MLAs and MPs was not signed by President Pranab Mukherjee, Lalu's conviction will immediately lead to his disqualification from Lok Sabha.
The minister will also not stand for the upcoming Lok Sabha elections next year and will have to wait for at least six years to contest.
Currently, Lalu faces a jail term of over seven years, which would mean a severe blow for his regional party.
Lalu was also imprisoned in 1997, when he was remanded for several corruption charges during his tenure as state chief minister. He resigned from the post and appointed his wife as the successor.
Latest Reactions
Vani Tripathi, BJP spokesperson: "Landmark judgement on the fodder scam a fight started. By BJP leaders in bihar eg.Ravishankar prasad reaches conclusion today! RJD will have. To find a complete change of leadership as Lalu gets convicted let's see how the cong. Party reacts to this judgement today!" she tweeted.
Gen (retd) VK Singh, former Army Chief: "1st step towards cleaner politics in India.Hope that subsequent judgements take less than 17 years. All hail the judiciary, Satyamev Jayte," he tweeted.
Brinda Karat, Communist Party of Marxist leader: "Its a judicial verdict after a legal process. Law has taken its course," she told ANI.
Ajay Maken, Congress leader: "It would be too early to say about political alignment or re-alignment in Bihar," he said.