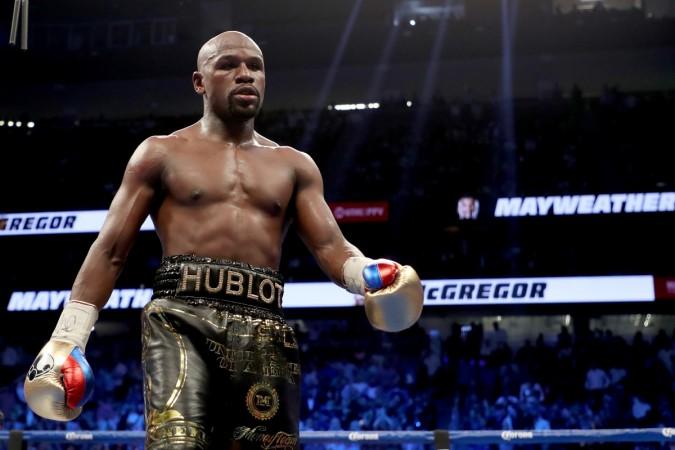 Ultimate Fighting Championships (UFC) welterweight champion Tyron Woodley has been linked with Floyd Mayweather's foray into Mixed Martial Arts ever since he spilled the beans about the possibility of the boxing legend training under him earlier this year.
Even as the talks of Mayweather coming out of retirement for an MMA stint have died down, Woodley has added fuel to the rumours as he has revealed the undefeated boxing great will start training from next week.
UFC president Dana White stoked the fire in December last year when he said he is not ruling out the possibility of Mayweather "coming over to UFC". Speculations were rife that the 41-year-old would face UFC star Conor Mcgregor again, this time inside the Octagon.
Mayweather, who is currently on a tour across the globe, also posted a video of him stepping inside a cage in January, sending both boxing and MMA fans into a tizzy.
"Yeah, I'm training Floyd. I just talked to Floyd. He was in Singapore (and) somewhere else," Woodley said, as quoted by Bloody Elbow.
"I just talked to him a couple of days ago. So when he gets back in town next week, me and him are going to start training."
What Mayweather has said about a possible return
Notably, Mayweather fought McGregor in the much-publicized Superfight last year at the T-Mobile Arena, Nevada in Las Vegas. The boxing match, which ended in favour of the former, saw both the stars walking home with more than $100m each.
Woodley's comments though come days after Mayweather confirmed during his trip to Manila that he is not thinking of a return to the ring or a foray into the Octagon. The American boxing legend had come out of retirement to take on McGregor in the crossover Superfight last year.
"I am an old man now so you know, there's no more fighting for Floyd Mayweather. I'm not thinking about fighting right now," Mayweather had told ABS-CBN.
Meanwhile, Mayweather's long-time bodyguard, Greg La Rosa, had spoken in favour of Mayweather's entry into MMA last week. While he revealed that his boss might do it, he said he is not sure whom the opponent would be.