Boxing legend Floyd Mayweather Jr. remains confident his "dynamite power" can help him beat Conor McGregor in a Mixed Martial Arts (MMA) fight inside the octagon.
The Ultimate Fighting Championship (UFC) star and the 41-year-old American have already had a fight scheduled in August 2017. The undefeated boxer further extended his record to make it 50-0 after beating the Irishman in a boxing match.
Mayweather defeated McGregor in the 10th round in the ring at the T-Mobile Arena, Nevada in Las Vegas. There have been talks over a potential UFC fight between the pair and the American boxer believes he can get the better of the UFC fighter if the two are pitted against each other in an MMA bout.
"I can't say how things will play out. I'm a numbers man – if the numbers are right then we can make it happen," Mayweather told Fight Hype.
"I'm never going to duck a fighter. Conor McGregor is a great fighter but I feel like I've got dynamite power with the four ounce gloves on.
"If you think I'm fast with eight-ounce gloves on then imagine how fast I'll be with four-ounce gloves on."
Mayweather had earlier admitted that he would take UFC welterweight champion Tyron Woodley's guidance if he is to consider a fight inside the octagon. The Michigan-born boxer has already confirmed he has started training but stressed he will be working on improving overall, before getting into the octagon.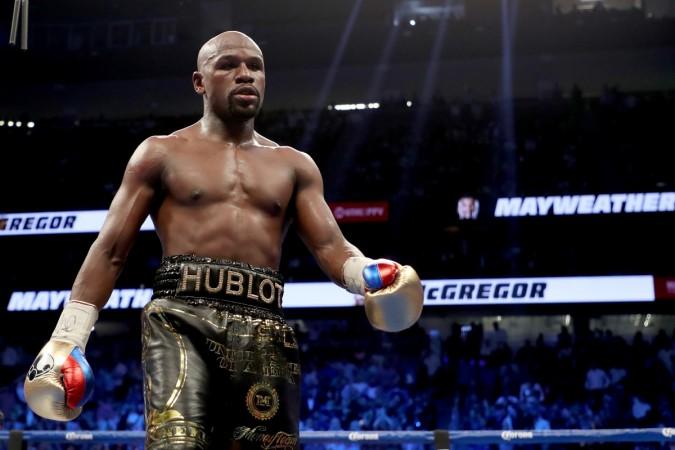 "I started training already. Not the physical part – endurance, as far as moving around. So far, I've started running," he said.
"I'm thinking about fighting in the MMA, I've thought about it. ... I started training in Miami. I look forward to fighting probably by the end of the year. We don't know. Right now it's a 50-50 (chance), not a hundred percent. But we've started training."
"I and Woodley have spoken to each other on numerous occasions. We talked. We said we're going to start working out, as far as he's got a great hand game already.
"I'm going to be working with different guys in the jiu-jitsu world. My wrestling game, I'm going to be working with guys with the wrestling. My kicking game, I'm going to be working with guys for the kicking game.
"Before I get in the octagon, I've got to be well rounded, all around the board."