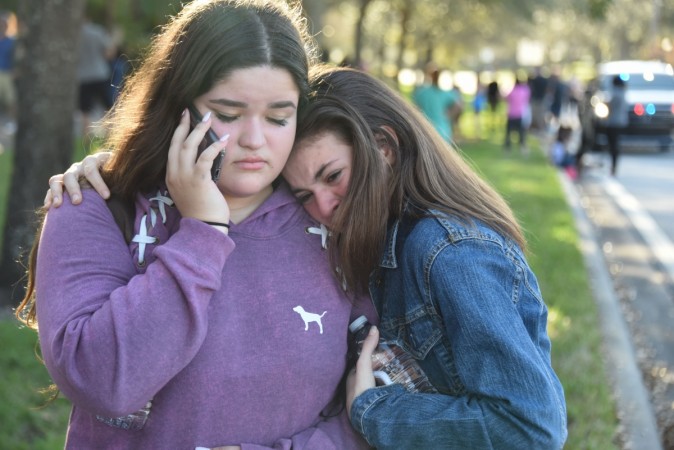 At least 17 people died and about 50 were injured in the Valentine's Day massacre that stormed over Marjory Stoneman Douglas High School in Parkland, Florida. The gunman – Nikolas Cruz – who happens to be a former pupil of the school, is a 19-year-old 'troubled kid' who was expelled from the school and has held a notorious obsession for arms and ammunition for a while.
The carnage began at the school premises, shortly before the students were about to leave for the day. It is said that Cruz threw around smoke grenades into a hallway to set off fire alarms, so the pupils would rush out of their classrooms. Wearing a gas mask, he then opened fire with an AR-15 machine gun and shot countless rounds of ammunition, reported police.
Pupils managed to hide under desks and social media posts of the lockdown circulated before the police finally arrived at the venue and arrested Cruz without incident.
Broward County Sheriff confirmed at least 14 injured people having been transferred to the hospital, before tweeting "It's catastrophic. There really are no words.
He also added: "There are numerous fatalities. It's a horrific situation."
Several celebrities took to Twitter to share their shock and condolences about the incident.
My prayers and condolences to the families of the victims of the terrible Florida shooting. No child, teacher or anyone else should ever feel unsafe in an American school.

— Donald J. Trump (@realDonaldTrump) February 14, 2018
Just spoke to Governor Rick Scott. We are working closely with law enforcement on the terrible Florida school shooting.

— Donald J. Trump (@realDonaldTrump) February 14, 2018
My heart is heavy over the school shooting in Florida. Keeping all affected in my thoughts & prayers.

— Melania Trump (@FLOTUS) February 14, 2018
No words, no actions, no laws are enough until we end this epidemic of school shootings in our country. My heart is with the students and parents of Marjory Stoneman Douglas High School.

— Ellen DeGeneres (@TheEllenShow) February 14, 2018
We owe it to our children and our teachers to keep them safe while at school. Prayers won't do this: action will. Congress, please do your job and protect Americans from senseless gun violence

— Kim Kardashian West (@KimKardashian) February 15, 2018
19th school shooting of a year less than two months long. This one on my home town in my home state. How many kids need to die? How many more fu*#ing times do we need to hear "now's not the time to discuss this?" Dozens more? Hundreds more? Thousands? Will it ever matter? https://t.co/YP7pt5iZ98

— Josh Gad (@joshgad) February 14, 2018
Sending all my love and prayers to the families affected in Florida. More lives lost due to gun violence.. I don't understand how this is still happening after all the horrifying tragedies we've witnessed! My heart is in pieces today.

— Hailey Baldwin (@haileybaldwin) February 14, 2018
WHEN WILL IT BE ENOUGH?! GUN CONTROL IS NEEDED NOW. WE ARE ALL FUCKING TIRED &HEARTBROKEN FOR MORE INNOCENT LIVES LOST. IM SO SORRY THAT OUR COUNTRY CANT HELP TO PROTECT US. &I AM SO DEEPLY SICKENED THAT PEOPLE CANT STAND UP & SHOUT THAT ASSAULT RIFLES SHOULD NOT BE ACCESSIBLE.

— Lucy Hale (@lucyhale) February 15, 2018
We have to elect candidates that are not funded by the NRA in November. We have an opportunity to elect candidates who won't allow kids to go to school and get shot. It is disgusting how many times this has happened and Republicans do nothing. You all have blood on your hands.

— Chelsea Handler (@chelseahandler) February 14, 2018