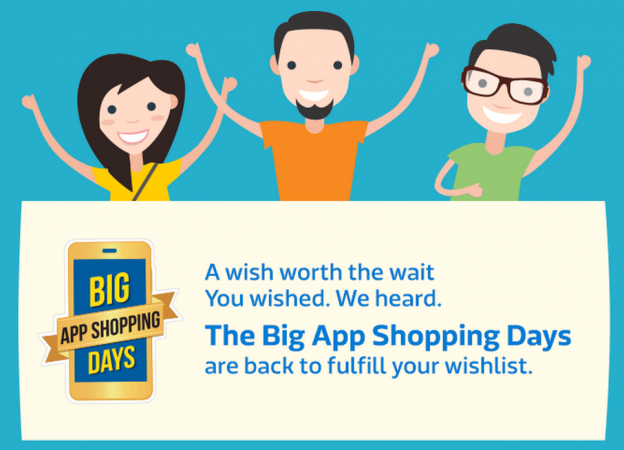 To popularise app-based shopping, Flipkart is offering one-of-its-kind sale for its app users. Dubbed 'Big App Shopping Day', the ongoing sale ends tomorrow (24 June).
Through the sale, Flipkart is offering a wide range of smartphones and tablet devices from renowned makers such as Samsung, Motorola, Xiaomi, Lenovo, Micromax and Huawei at attractive prices. Besides, Flipkart is also offering 10% extra discount to SBI debit and credit card users.
Here are some of the most exciting deals that you can't afford to miss.
OnePlus One
Last year's flagship killer OnePlus One is no more exclusive to Amazon India. Flipkart has introduced the much-appreciated smartphone in its 'Big App Shopping Day' with a straight discount of ₹2,001 by offering the 64GB Sandstone Black OnePlus One model for ₹19,998. Post the sale, the same will be available for ₹21,999.
Read More- OnePlus One vs ASUS ZenFone 2 Review
Xiaomi Mi 4
The Xiaomi Mi 4 16 GB edition is available for ₹13,999. Apart from the price discount, you can also exchange your smartphone for up to ₹5,000.
Read More- Xiaomi Mi 4 Review
Lenovo A6000 Plus
The Lenovo A6000 Plus comes with 2GB RAM, 16GB storage and retains the rest from its successor. Lenovo is offering ₹500 discount on the smartphone and the final price is ₹6,999. Lenovo is also offering the A7000 smartphone without any pre-booking.
Read More- Lenovo A6000 Plus Review
Moto E 2nd Gen and Moto G 2nd Gen
Motorola is offering amazing discounts and exchange offers on all of its Moto series smartphones. Moto E 2nd Gen 3G edition is available for ₹5,999, while Moto E 2nd Gen 4G and Moto E 1st Gen are being offered at ₹6,999 and ₹3,999 respectively. Moto G 2nd Gen is available for ₹9,999 and Moto X 2nd Gen for ₹11,999. The latest Moto Turbo is being offered for ₹26,999.
Read More- Moto E 2nd Gen 4G Review
Samsung Galaxy S5 and Galaxy Note 4
Samsung is offering its last years flagship smartphone Galaxy S5 for ₹22,999, while the Galaxy Note 4 can be purchased for ₹38,499.
Read More- Samsung Galaxy Note 4 Review
Sony Xperia Z Ultra
Sony is offering its Xperia Z Ultra for ₹13,999. The smartphone comes with 16GB built-in storage, 1080p display, water proof body and runs on Android 5.0 Lollipop os.
Read More- Honor 6 Plus Review
Honor 4C, Honor 6 and 6 Plus
Huawei is also offering some amazing discounts on its Honor series of smartphones. The budget smartphone Honor 4C is available for ₹7,999, while the Honor 6 can be bought for ₹15,999. On its higher end smartphone Honor 6 Plus, Huawei is offering a straight discount of ₹2,000.
Read More- Honor 4C review