When Samsung released their Note series by bringing in the phablet devices, every big smartphone manufacturer including Apple and HTC preferred to stick to smaller devices.
Surprisingly, years later, all of them silently started following this big screen design language with their own signature terms. Samsung combined a big impressive screen with Wacom precision input through a stylus, which became outdated by the time first Galaxy Note device arrived. Samsung truly showed how a stylus can seriously improve your smartphone usage by mixing some creative pinch of fun into it.
Samsung Galaxy Note 4, the 4th generation of Note devices arrived with an array of hardware and software features, which can be criticised, but tough to ignore. Anyways, once the Note 4 debuted in the country we decided to start using it extensively for some time, before passing any judgment. Rather than writing a very conventional review with traditional sections, we have tried to make it interactive by discussing the key features of Galaxy Note 4 along with its pros and cons. And here's it.
Design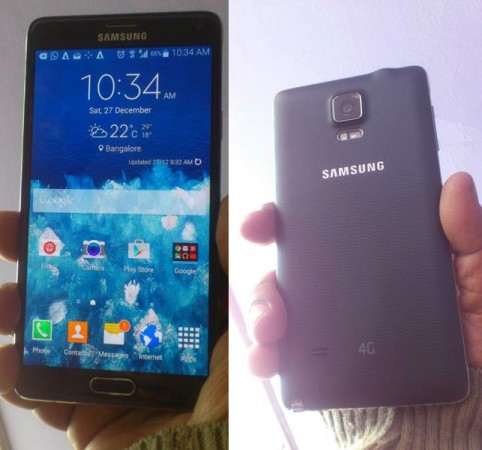 At a glance, the Galaxy Note 4 looks much like its predecessor Galaxy Note 3 with glass front, metal bezel and detachable fake leather interchangeable backplate with a few impressive changes. The latest Note features slightly rounded edges, which made it the most comfortable phablet to hold in hand.
Measured at 154x79x8.5mm, the Galaxy Note 4 is slightly thicker than iPhone 6 (1.4mm) and thinner than Google Nexus 6 (1.6mm) and weighs 176g (4g more than iPhone 6 but 8g less than Nexus 6).
We are not claiming that Galaxy Note 4's design is a deal-breaker, but Samsung has chosen a perfectly practical design with a robust built quality. We've dropped the Note 4 quite a few times and impressively the device withstood each time without making any wear or tear sign on the phones body.
Screen
The biggest USP of Galaxy Note 4 is its grand 2K display. Samsung has packed in a 5.7-inch Super AMOLED display panel with a whopping resolution of 2,560x1,440 pixels, which is identical to Nexus 6's 5.96-inch display, but Note 4 beats it with the pixel density measurement of 515 PPI.
The good thing about Galaxy Note 4's display has come out of its previous oversaturated colours and it's the best display to date for the experience it provides. Icons and texts appear sharp with the level of crispiness you can imagine. The display also makes reading through web pages, documents and even books on screen for its rich and vibrant output.
With the AMOLED technology, the display can produce decent level of blacks, hence each colours stand out differently on the screen. The Note 4 screen also has a great level of viewing angles and we admit this is the best mobile display we've ever tested.
UI, OS & Features
The Galaxy Note 4 is still running on Android Kitkat 4.4 operating system with a proprietary TouchWiz layer over it. Samsung has confirmed to release the Android 5.0 Lollipop upgrade by earlier next year but didn't mention any specific date.
Samsung has modified several features, which can actually make the bundled S Pen a nice utility.
Samsung has also added some more brilliant additions to Note 4 like Smart Select, S Pen Mouse feature or Multi Window feature. Honestly, while reviewing the earlier Note devices we never tried these features before, but with Note 4 we really got addicted to all of these. Yes, we use a lot of smartphones for reviewing reasons; still we started feeling addicted to the device after two months of use.
The Note 4 also features a suite of health application named S Health, under which you will find all the necessary health related apps including step-counter, heart-rate monitor and stress monitor. For using these apps you need to access the sensor placed on the rear side under the primary camera.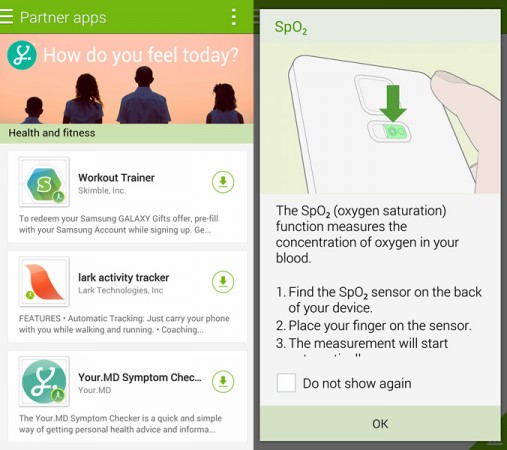 But the Touchwiz interface still feels slightly bloated and Samsung actually needs to improve a bit to make it sensible enough to the stock Android users. But the addition of several sensible features makes Note 4 a brilliant phablet device to use.
Security
To impress customers a phone should have a great level of security features and happily Samsung Galaxy Note 4 has it all. The device features Samsung's Knox, which allows users to protect their data and apps in an enterprise manner. Knox also adds several important features for certificate management, VPN+, enhanced container security, Knox marketplace and Knox Enterprise Mobility Management. Fortunately, Galaxy Note 4 has it all.
Performance
Samsung Galaxy Note 4 features a Qualcomm Snapdragon 805 SoC running at 2.7GHz and is powered by 3GB of RAM and 32GB of in-built memory. There is no visible delay during multi-tasking, web browsing or even playing resource heavy 3D games.
Camera
The Note 4 features a 16mp sensor with Optical Image Stabilisation rear and a 3.7mp front camera. But the specifications are not everything. During the test we found the Note 4 rear camera is super impressive.
In regular lights the images appear sharp with a decent level of colour gamuts and contrast. The camera focuses quickly and performs well in low-light environment. The 4K video recording works just fine with no snag with auto-focus abilities. The Note 4 camera also features an auto-burst mode, which generates multiple quick images by holding down the lower volume physical key or on-screen shutter button.
Removable battery, MicroSD slot
The Galaxy Note 4 is powered by a 3,220mAh capacity battery, identical to Nexus 6 and can give a battery life of more than a day even under heavy usage level. We set the screen brightness level to automatic and iterated a 1,080p video and noticed the battery lasts a little more than nine hours.
The battery is removable, so you can also buy another battery for hot swapping. Samsung also bundles a quick charger in the pack of Note 4, which charges the battery from 0-50% in just 30 minutes. Using while charging will take a little more time, but it's impressive.
Another good thing about Samsung Galaxy Note 4 is the presence of MicroSD card slot, which can boost the phone memory. If you draw a comparison with other current flagship phones, the Google Nexus 6 and iPhone 6/ 6 Plus omits the card slot.
Conclusion
All in all, the Samsung Galaxy Note 4 is a great smartphone with a great built. The utilities, snappy performance, outstanding camera and the above average battery with hot swapping ability make it a decent all-round phablet device. The Galaxy Note 4 might cost a little steeper on the side, but the overall performance with the additional features makes it one of the best smartphone till date.
Pros:
Brilliant Screen
S Pen Utility
Amazing Camera
Snappy Performance
Battery
Cons: