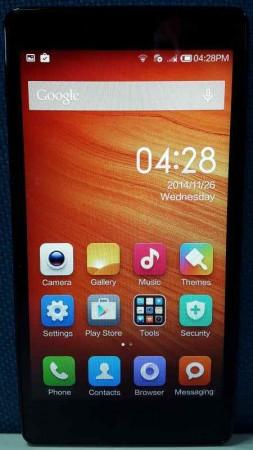 Xiaomi Redmi Note was announced in India in the beginning of this year, but for some uncertain reasons it wasn't being made available for buying. And finally they rolled out the product in two versions; a 3G-based Dual-SIM edition and a tailored-for-India 4G version.
Both the devices look identical except for a few hardware changes inside. Before going deep into the analysis, we would like to tell you Xiaomi Redmi Note is a significant device, mostly for its hardware configuration with a great user interface.
The Chinese smartphone maker has iterated their own strategy of aggressive price cut, as opposed to design or hardware innovation.
As a result, the Redmi Note was seen as yet another Phablet device re-packaging all the hardware elements to fight with the expensively tagged devices with the same configuration.
The Redmi Note will be available on 2 December and happily we received the 3G only handset before that and here's our take.
Design and Built
Unlike following the design legacy of Mi flagship handsets, Redmi Note resembled the Redmi 1S design with a few significant improvements. Choosing a bigger 5.5-inch screen on the front, Redmi Note is much bigger than the 1S. The device is encased in similar glossy plastic with slightly slimmer depth.
Measures at 154 x 78.7 x 9.45 mm the Redmi Note features a slightly curved back, to ensure the device fits in easily to your hands. The glossy white back is prone to fingerprints and smudges and has a probability to get lost in the crowd. Happily, Xiaomi has unveiled several interesting looking back covers for additional choice.
Leaving the left bezel unoccupied, Xiaomi has featured both volume rocker and the power button on the right hand side. The micro USB port has been featured on the bottom and 3.5mm on the top.
Xiaomi featured the main speaker grille on the bottom and the primary camera on the top rear.
The only little problem we have with Redmi Note is its weight, with 199g it feels little heavy in hand, though this is the most common issue across all phablets devices.
Display
The Xiaomi has equipped Redmi Note with a 5.5-inch, 720 x 1,280 pixels, 320 DPI. The display offers great viewing angles with a decent brightness level. Text and icons look rich in colour with good presence of saturation.
In our stretch test we did a lot of gaming, texting, browsing, photo editing and other activities and didn't have anything to complain against. For added protection Xiaomi has added gorilla glass 3 with Redmi Note devices.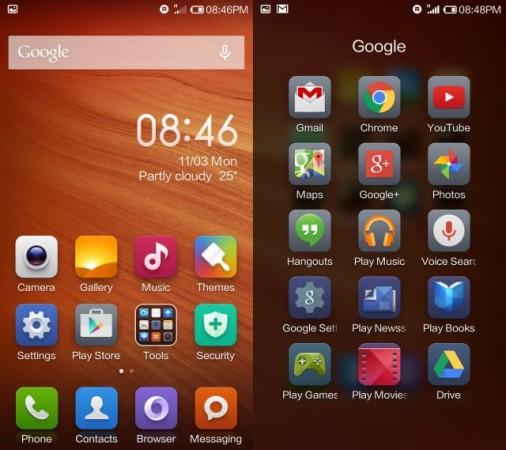 Operating System & UI
The Redmi Note features an Android Jellybean 4.3 version instead of the common Android KitKat 4.4. But, the OEM developed interface of Miui compensates the rest. The heavily customised interface gives a different feel and look to the system. Xiaomi has developed several own-customised apps to give a superior user feeling.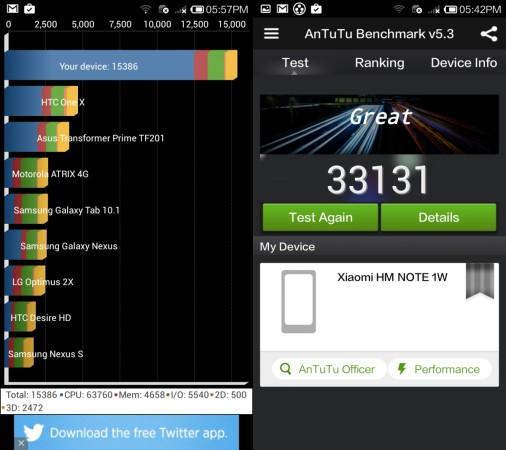 Performance
The Redmi Note is powered by an eight-core 1.7GHz processor and features 2GB of RAM. The eight 32-bit A7-cores have been coupled with an ARM Mali 450 GPU chip.
Benchmarking the Redmi Note we found an impressive result. Benchmarked with Antutu, the Redmi Note scored a brilliant 33131, making it ahead of Xiaomi mi 2 and Lenovo K900. By comparison, most of the other mid-budget handsets passed just around 30,000 marks. With Quadrant Standard we found a whopping score again. With 16,386, Redmi Note kept itself ahead of HTC One X and Motorola Atrix G.
In general, we tested the Redmi Note's real-world performance and found us on the happy side. The phone is able to open multiple web pages and applications easily. It didn't hassle our game playing sessions either.
Camera
The Xiaomi Redmi Note features a rear camera of 13mp with an ability to shoot with an aperture of f/2.2 and wide angle photographs at 28mm. The camera is bigger than any phablets available in the price range. It also couples an LED flash for low-light shooting.
For primary usage like making VOIP calls and clicking selfies, the Redmi Note features a 5mp camera on the front.
Testing the rear camera in regular lighting conditions we were fairly impressed with the quality it produced. The 13mp camera is able to focus rapidly and can produce images with sharp saturation and accurate hues.
In regular lighting, it proved decent as well, with crisp detail and featuring decent contrast level. We liked the simple camera interface as well.
Battery
Battery life is one of the most common problems of smartphones and most of them struggle hard to provide a life of more than a day. To fix this problem slightly, Xiaomi has chosen a 3100mAh battery, which stays easily more than a day. The Redmi Note also features a utility to lengthen the battery life a few hours more.
Wrapping Up
Xiaomi has just rolled out the phone for pre-booking. The Redmi Note will be available to the Indian customers by 2 December. With a price tag of Rs8,999 for the 3G version and Rs9,999 for 4G one, the pricing feels very aggressive in comparison.
In this price the LG Optimus L7, Lava Magnum X604, Lenovo S880, Micromax Canvas Blaze and Sony Xperia Miro falls way behind the Xiaomi Redmi Note.
The Redmi Note gives a better camera, decent display, optimum performance and a well designed interface. The only shortcoming of this device is it features Android JellyBean 4.3, which is quite notorious for its system performance ability.
Pros
Decent Display
Great Camera
Optimum Performance
Good Battery life
Cons
One 3G SIM
Android JellyBean OS