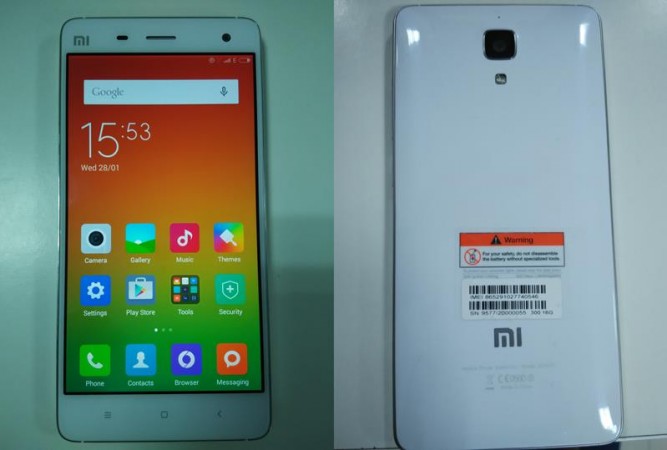 Xiaomi debuted in India last July with their killer flagship smartphone MI3. All the units sold out in minutes, making Xiaomi a sensation among India's young customers.
Within a short time frame, Xiaomi released MI3's successor, the MI4, in China. Both MI3 and MI4 belong to Xiaomi's flagship smartphone brand MI, and so the phones look superior, feel great and surprisingly are offered in an unimaginable price.
However, when MI4 appeared in China, it was a superior device for featuring some of the best specification at that point of time. Xiaomi waited for a few months to get the MI3 sensation over in India. And that's how they might have committed their first mistake, by delaying the release of MI4 in India. If they released the device sometime between October-November last year, it could have been a success. Anyways, Xiaomi MI4 is still significant for the features it offers. Let's review them, one by one.
Built & Design
Several experts have claimed that Xiaomi MI4 has stolen iPhone 4 and iPhone 5 design language straight away. However, if you hold the MI4 in your hand for some time and use it, you will find the claim wrong.
The MI 4 actually resembles the designs of Apple's iPhone and Samsung's Galaxy Alpha smartphone. The MI 4 features sandstone polished steel bezel, which gives the device a superior look. The device feels sturdy and ergonomic in hand as well but the polished, textured finish on the back makes it a bit slippery. It also features a water-repellent nano coating around it. We bet there is no device in the market till date that offers such a premium and sturdy look in the offered price.
Measuring 139.2x68.5x8.9mm, the MI4 weighs a tad heavy at 149g but doesn't create a problem for using it throughout the day.
Display
Xiaomi has coupled the MI4 with a 5-inch FHD IPS LCD touchscreen with 1080x1920 pixels of resolution at 441PPI of pixel density. The display feels vibrant with lots of colours at aptly featured saturation, brightness and contrast levels. The display has a decent viewing angle and remains usable under direct sunlight. The display of MI4 feels nice while watching images, videos, reading books, surfing web and playing games.
Xiaomi has also featured their latest UI version of MIUI in the phone and the combination is one of the biggest strengths of MI4. Yes, we are claiming this after keeping OnePlus One in mind.
MIUI
Xiaomi's MIUI is one of the most popular Android interface since they began their journey through developing ROM's and MIUI 6 has added a significant splash over it. Though MIUI 6 feels pretty similar to iPhone's iOS interface, it has several significant features which makes the device easiest to use.
Xiaomi has actually given the interface a total makeover by modifying the colour palate, fonts, appearance and animation. Yes, we really got surprised during our first hands-on with MI4 by noticing the similarities with iOS. The new notification panel looks great and offers huge customisation. Xiaomi has also changed the tools interface and they are looking really impressive now. However, the interface is memory consuming; in the idle mode the device consumes 1.3GB of RAM out of 3GB.
Performance
Xiaomi MI4 is perhaps the cheapest device to feature Qualcomm Snapdragon 801 MSM8974AC processor. The Snapdragon 801 SoC integrates a Quad-Core processor with a clock speed of 2.5GHz and an Adreno 330 GPU inside and gets featured in several flagship smartphones including Samsung Galaxy S5. The processor has been aptly coupled with 3GB worth RAM memory. The MI4 comes in 2 memory variants- 16GB and 64GB and it doesn't feature any micro SD card slot on board.
Like MI3, MI4 also features balanced and performance mode for delivering according to user's requirement. The balance mode clocks down the processor and saves some battery life, the performance mode gives all-out performance without bothering about the battery performance.
In performance mode, the device performs well and there are no noticeable input lags. In multitasking mode also, the MI4 performs well, but playing some heavy-memory consuming games while keeping some apps on in the background heats the device.In balance mode, the device also performs fine and offers better battery life.
In our synthetic benchmarking test, Xiaomi MI4 scored 44509 in AnTuTu Benchmarking test, 23686 in Quadrant Standard and 1490 in Vellamo Metal Benchmarking test. All three stand almost on par with it's biggest competitor OnePlus One.
On the flip side, the MIUI 6 interface consumes a lot of memory. In idle time, it consumes at least 1.3GB of system available 3GB of RAM. We wish, Xiaomi trims down MIUI memory consumption in future to boost the device's performance.
Camera
The Xiaomi MI4 boasts of a 13MP rear camera with LED flash and Auto Focus and an 8MP front camera on the front. Xiaomi has improvised the camera interface with many controls, which allow much enhanced images irrespective of the lighting environment.
Both the cameras are good and click decent images with ample presence of colours and they look nice on screen as well on some bigger displays. MIUI 6 also features an exposure control on the camera interface, which helps to achieve better picture where it is hard to focus on the needed object.
Battery & Storage
Xiaomi MI4 features a 3100mAh inbuilt battery. The battery can be replaced only when using a suction cap; hot swapping the battery won't be possible. The battery lasts little less than six hours when running a 1080p video in loop mode. We won't say this is bad but the device could have achieved some more if it can trim down the system memory consumption. The device comes with a fast charger, using which you can charge the device up to 50 percent in half an hour.
Though MI4 has a 64GB variant available in China, you can buy only the 13GB version in India. In the last press conference, Xiaomi MI Chief Hugo Barra mentioned the 64GB version will soon be rolled out in India. Anyways, on the 16GB edition, only 12GB is left to the user which is a little less than that offered by competitors like OnePlus One, which costs a little higher and offers 64GB out of the box.
Competitors
The biggest competitor of Xiaomi MI4 is OnePlus One, which offers almost similar configuration with more memory. Another competitor of MI4 is Huawei Honor 6, which offers similar in-built memory and a micro SD card slot. However, the 5MP front camera of Huawei Honor 6 falls short in front of MI4's 8MP front camera. But the Honor 6 costs a little less too. The other phone that stands close is Lenovo Vibe X Pro that features MediaTek MT6595M Octa-Core processor, 32GB storage, 13MP back camera but again has slightly less RAM (2GB) and front camera (5MP).
Wrapping Up
The current model is available only on Flipkart's flash selling process at ₹19,999. The biggest drawback of this model is non availability of 4G and 16GB of memory. The OnePlus One costs ₹21,999 and the Huawei Honor 6 and Lenovo Vibe X2 retails at ₹17,999 and ₹19,999.
If you are looking for a great performing device with more memory, you can opt for the OnePlus One. But if you want a well performing smartphone with decent usability, great looks and optimum performance, choose between Xiaomi MI4 and Huawei Honor 6. Xiaomi MI4 looks great and performs well but Huawei Honor 6 costs less and features a micro SD card slot.
Pros
Great Looks, Sturdy Built, MIUI 6, Subtle Performance, Impressive Camera
Cons
Non availability of 4G, Only 16GB Memory, No Micro SD card slot