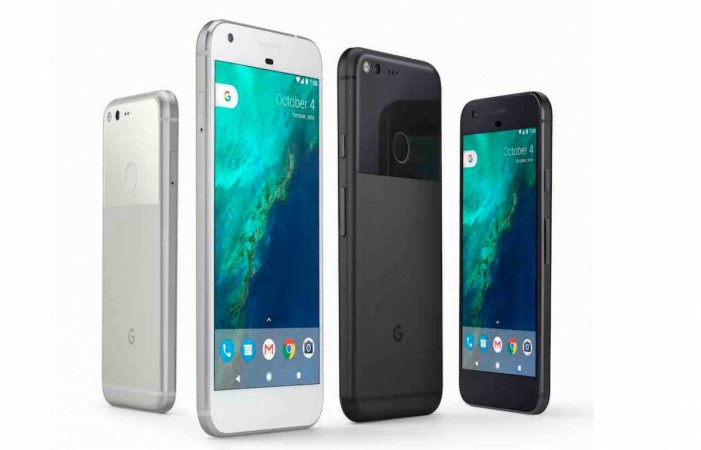 Leading e-commerce company Flipkart, in association with banking partner HDFC, is offering Rs 7,000 cash discount on Google's Pixel and Pixel XL smartphones in India.
Since the launch of the new Google phones on October 13, Flipkart has been offering an exchange deal of about Rs 26,000. The prices of Pixel phone series start at Rs 57,000 and with the exchange programme, the price of the base model fell to Rs 31,000.
Also read: Malicious prank video sent via messenger apps makes Apple iPhones, iPads crash and freeze [How to restore it]
Now, with the new offer, consumers with HDFC credit/debit card can grab it for just Rs 24,000, which is less than half its original price. This offer is valid until November 30, Flipkart mentions on the product's landing page.
This move will certainly draw people towards Google Pixel since the rival Apple iPhone 7 series does not boast such lucrative deals.
Read more: Google Pixel phone series: X-factor that makes Nexus successor standout among rivals
New price structure of Google Pixel phone series on Flipkart:
Models
32GB
64GB
Google Pixel (5.0-inch)
Old Price: Rs. 57,000
Old Price: Rs. 66,000
New Price: Rs. 24,000
New Price: Rs. 33,000
Google Pixel XL (5.5-inch)
Old Price: Rs. 67,000
Old Price: Rs. 76,000
New Price: 34,000
New Price: Rs. 43,000
The cash discount on old phones will be solely decided by Flipkart based on the device's brand and working condition.
Google Pixel and Pixel XL look identical. They flaunt uni-body design language with annodised Aluminium-based cover on the back, but differ in screen sizes. While one is a 5.0-inch device having full HD (1920x108p) resolution, the other has a 5.5-inch display having QHD (2560x1440p) resolution.
The other specifications remain the same in both the devices.
Key specifications of Google Pixel and Pixel XL:
Models
Google Pixel
Google Pixel XL
Display
5.0-inch full HD (1920x1080p) AMOLED screen

Pixel density: 441 ppi (pixels per inch)
Cinematic widescreen 16:9 aspect ratio
Corning Gorilla Glass 4 for durability
Fingerprint- and smudge-resistant oleophobic coating

5.5-inch QHD (2560x1440p) AMOLED screen

Pixel density: 538 ppi
Cinematic widescreen 16:9 aspect ratio
Corning Gorilla Glass 4 for durability
Fingerprint- and smudge-resistant oleophobic coating

OS
Android v7.1 Nougat
Android v7.1 Nougat
Processor
Qualcomm Snapdragon 821 quad-core (2.15GHz dual-core +1.6GHz dual-core)
Qualcomm Snapdragon 821 quad-core (2.15GHz dual-core +1.6GHz dual-core)
RAM
4GB
4GB
Storage
32GB /128GB
32GB /128GB
Camera
Main:12.3 MP dual-pixel camera with f/2.0 aperture having1.55 μm large pixels for clear low-light pictures

Fast auto-focus in any light condition with Phase Detection Auto-Focus (PDAF) and Laser Detection Auto-Focus (LDAF)
4K (30 fps) video capture to bring cinematic film quality to videos
Capture every detail with HD 240 fps (8x) and Full HD 120 fps (4x) slow motion video
Natural, broad-spectrum CRI-90 dual-LED flash

Front:8MP camera

Light-sensitive 1.4 µm pixels for clearer photos in low light
Bright photos and sharp focus with f/2.4 aperture
Crisp filming through Full HD video capture (30 fps)

Main:12.3 MP dual-pixel camera with f/2.0 aperture having1.55 μm large pixels for clear low-light pictures

Fast auto-focus in any light condition with Phase Detection Auto-Focus (PDAF) and Laser Detection Auto-Focus (LDAF)
4K (30 fps) video capture to bring cinematic film quality to videos
Capture every detail with HD 240 fps (8x) and Full HD 120 fps (4x) slow motion video
Natural, broad-spectrum CRI-90 dual-LED flash

Front:8MP camera

Light-sensitive 1.4 µm pixels for clearer photos in low light
Bright photos and sharp focus with f/2.4 aperture
Crisp filming through Full HD video capture (30 fps)

Battery
2,770mAh

Standby time: Up to 456 hours1
Talk time: Up to 26 hours1
Internet use time (Wi-Fi): Up to 13 hours1
Internet use time (LTE): Up to 13 hours1
Video playback: Up to 13 hours1
Audio playback: Up to 110 hours1
Fast charging: Up to 7 hours of use from only 15 minutes of charging1

3,450mAh

Standby time: Up to 552 hours1
Talk time: Up to 32 hours1
Internet use time (Wi-Fi): Up to 14 hours1
Internet use time (LTE): Up to 14 hours1
Video playback: Up to 14 hours1
Audio playback: Up to 130 hours1
Fast charging: Up to 7 hours of use from only 15 minutes of charging1

Add-ons
Single SIM (type: nano), Anodised Aluminium body cover, Bluetooth v4.2, Wi-Fi 802.11a/b/g/n/ac, 2x2 MIMO, dual-band (2.4 GHz, 5.0 GHz), NFC (Near Field Communication), 3.5mm audio jack, Type-C USB port, RGB LED notification light for optional alerts, Google Allo messaging app with Google Assistant and Duo video chatting app, OTG Dongle
Single SIM (type: nano), Anodised Aluminium body cover, Bluetooth v4.2, Wi-Fi 802.11a/b/g/n/ac, 2x2 MIMO, dual-band (2.4 GHz, 5.0 GHz), NFC (Near Field Communication), 3.5mm audio jack, Type-C USB port, RGB LED notification light for optional alerts, Google Allo messaging app with Google Assistant and Duo video chatting app, OTG Dongle
Audio

Crisp sound quality with single bottom-firing speaker
Adaptive audio amplifier to maximise speaker performance and durability
3 microphones (2 front, 1 rear) with noise cancellation

Crisp sound quality with single bottom-firing speaker
Adaptive audio amplifier to maximise speaker performance and durability
3 microphones (2 front, 1 rear) with noise cancellation

Dimensions
143.84 x 69.54 x 8.58 mm
154.72 x 75.74 x 8.58 mm
Weight
143g
168g
Colours
Quite Black and Very Silver
Quite Black and Very Silver
Price
32GB: Rs. 57,00064GB: Rs. 66,000
32GB: Rs. 67,00064GB: Rs. 76,000