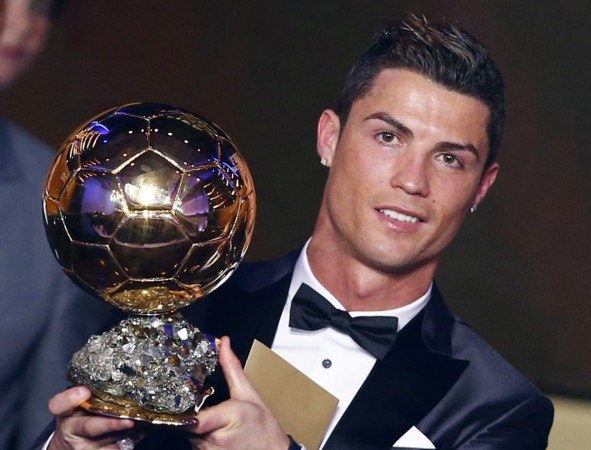 Five Premier League players - Thibaut Courtois, Eden Hazad, Diego Costa, Yaya Toure and Angel Di Maria – have been nominated for the 2014 Ballon d'Or as Fifa announced the shortlisted players for the prestigious award scheduled to be handed out in Zurich on 12 January 2015.
Costa and Courtois, who were not in Chelsea last season, played a big hand in Atletico Madrid's successful 2013/14 campaign, where the Los Rojiblancos emerged victorious in the La Liga and reached the finals of the Champions League.
While Costa scored 35 goals for Atletico Madrid in all competitions last season, Courtois made some excellent saves to help Los Rojiblancos win their first La Liga title since 1996.
The duo have also been doing well at Chelsea this season as Costa has already netted nine goals in seven Premier League appearances, while Courtois has managed to establish himself as the Blues first choice goalkeeper over Petr Cech.
Angel Di Maria, who did not play Manchester United last season as well, also made some big contributions as Real Madrid went to win the Copa Del Rey and the Champions League. The Argentine has also managed to make an immediate impact since his £59.4 million switch to Manchester United this summer, scoring three goals in the Premier League this season.
Chelsea's Hazard and Manchester City's Yaya Toure are the only two players who played in the Premier League to be nominated for the 2014 Ballon d'Or as both made key contributions to their respective clubs.
While Toure netted 24 goals in all competitions to help City win the Capital One Cup as well as the Premier League title last season, Hazard scored 17 goals and made 10 assists as Chelsea competed for the English title and reached the semi-finals of the Champions League.
Meanwhile, Luis Suarez, who nearly helped Liverpool clinch their first league since 1990 by scoring 31 goals in 32 Premier League appearances, was not shortlisted for the 2014 Ballon d'Or due to him having disciplinary issues at the 2014 World Cup, where he was handed a four month ban after being found guilty of biting Italy's Giorgio Chiellini.
Barcelona's Lionel Messi and Real Madrid's Ronaldo, who have dominated the Ballon d'Or since its inception in 2008, have also been nominated following their good performances for their respective teams last season.
Messi, who won the award for four successive years (2009, 2010, 2011 2012), scored 56 goals in all competitions last season and helped Argentina reach the finals of the 2014 World Cup.
Last year's winner Ronaldo, on the other hand, broke numerous records last season as he ended up as the La Liga's and Champions League top scorer with 31 and 17 goals respectively.
Check out the complete list of 23 shortlisted players for the 2014 Ballon d'Or
Gareth Bale: Wales, Real Madrid
Karim Benzema: France, Real Madrid
James Rodriguez: Colombia, Real Madrid
Cristiano Ronaldo: Portugal, Real Madrid
Sergio Ramos: Spain, Real Madrid
Toni Kroos: Germany, Real Madrid
Bastian Schweinsteiger: Germany, Bayern Munich
Thomas Muller: Germany, Bayern Munich
Manuel Neuer: Germany, Bayern Munich
Arjen Robben: Netherlands, Bayern Munich
Philipp Lahm:Germany, Bayern Munich
Mario Gotze: Germany, Bayern Munich
Javier Mascherano: Argentina, Barcelona
Lionel Messi: Argentina, Barcelona
Neymar: Brazil, Barcelona
Andres Iniesta: Spain, Barcelona
Diego Costa: Spain, Chelsea
Thibaut Courtois: Belgium, Chelsea
Eden Hazard: Belgium, Chelsea
Zlatan Ibrahimovic: Sweden, Paris Saint-Germain
Paul Pogba: France, Juventus
Angel Di Maria: Argentina, Manchester United
Yaya Toure: Ivory Coast, Manchester City