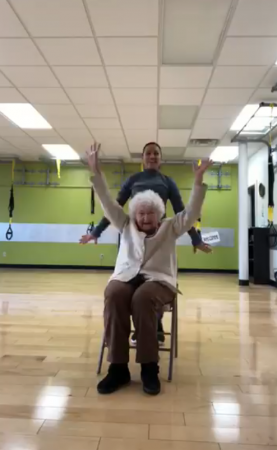 Social media fitness models might be giving people some major fitness goals, but this particular video is going to be the ultimate motivational trigger that can get even the laziest of us inspired to work out harder.
It also breaks the typical stereotypes about grandmas just sitting around and trying to feed us to the point where we're beyond full, as this 93-year-old grandma not only indulged in a training session but also couldn't stop laughing throughout the entire thing!
A viral video that has been melting hearts worldwide shows Elizabeth Zanin, a personal trainer at Anytime Fitness in Pierre, South Dakota, instructing the elderly woman to do a bunch of exercises. Even though the old lady is sat on her chair all through it, the levels of enjoyment she seems to be going through is what's winning people over.
Posted by Elizabeth's daughter Joana Zanin last Tuesday, the video has already gained over six million views, with over 116,000 retweets and 336,000 likes. It was captioned: "My mom trains this 93-year-old and it's the cutest thing ever. Her laugh and smile makes her young."
The older woman is seen sitting in a folding chair in the middle of a private room in the gym when the song Ni Tu Ni Nadie by Moenia starts playing, probably to set up the workout mood. Elizabeth then approaches her before beginning the session by telling the woman to march to the beat of the song.
And amidst all that marching, lifting her arms up and down, sticking out each of her legs to the side and even shimmying her shoulders, the 93-year-old can't stop laughing. What's even better is how contagious her laughter is — all resulting from her own amusement at doing the moves.
Asked to smile throughout the workout to set a peppy mood, the woman cracks up once again. In the end, Elizabeth congratulates her on her workout, saying: "Give me five good job!" As expected, this sends the woman into a fit of laughter again.
The video went viral right after it was shared, and since then people can't stop gushing over how much they love this grandma.
The gym where the session took place also shared the video, captioning it: "Such a beautiful thing! We love seeing the bond between our trainers and members. This shows having FUN while working out is key to happiness!"
Even supermodel Kendall Jenner, 22, retweeted the video with the caption: "This is the best thing ever! Made my day."
From comparing her laughter to a positive version of Tickle Me Elmos, to saying "This made my heart so full," the reactions to the video have been incredible.
One of them even joked: "A 93-year-old is doing more exercise than me but also this is the best thing I've ever seen."
Another one said just what everybody has been thinking: "This has hit me right in the feels. Can she be my grandma please."