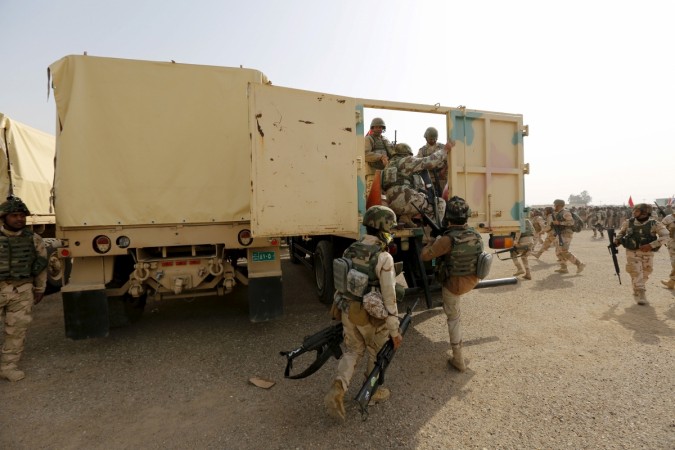 The first phase of the operation to take back Mosul city from the Islamic State group was launched Thursday morning, Iraqi military reportedly said. Iraq's armed forces started the offensive against ISIS, which captured the city in June 2014, with the backing of United States-led air strikes.
The army and the Popular Mobilisation paramilitary force launched the operation in Nineveh province, Agence France-Presse reported. Besides air raids, the U.S.-led international coalition has assisted the Iraqi army by sending training and military advisors.
"The first phase of the Fatah (Conquest) Operation has been launched at dawn to liberate Nineveh, raising the Iraqi flag in several villages," Reuters quoted a military statement as saying. The military aims to recapture Mosul, the capital of Nineveh, this year.
The armed forces won back several villages on the outskirts of Makhmour town, located east of Mosul, the Associated Press quoted Joint Military Command Brigadier General Yahya Rasool as saying.
Kurdish Peshmerga fighters have also been carrying out offensives against the Islamist extremist group.
"Iraq forces in Makhmur have begun their advance towards Al-Qiyyara to the south of Mosul. The advance has allowed us to liberate four or five villages from the Daesh terrorists," Peshmerga deputy commander for the sector Araz Mirkhan told AFP, using the local acronym for the group.
Operation Conquest could be a major victory for the Iraqi military as Mosul is the largest city in northern Iraq with a population of over 2 million people.
The Iraqi military had in December last year defeated the Islamic State group in Ramadi and hoisted the Iraqi flag on the central government complex in the city. ISIS had captured Ramadi in May 2015.