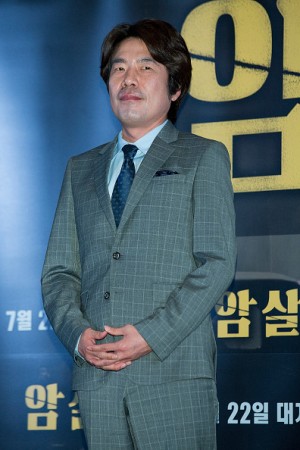 South Korean veteran actor Oh Dal Soo hit headlines past February with sexual harassment allegations against him putting his reputation at stake. Months after the controversy, many films starring Oh Dal Soo are bearing the brunt of his controversy.
After the sexual harassment allegations, Oh Dal Soo reportedly quit the drama "My Ahjusshi" and the filming of "Along with the Gods: The Last 49 Days" where the producer decided to reshoot the scenes without the actor.
The spate of three films that he completed shooting is yet to see the light of the day. Oh Dal Soo had finished filming "The Neighbor", "I Want to Know Your Parents" and "Control" is awaiting release post the controversy.
According to sources, Oh Dal Soo essayed the role of an opposition politician under house arrest in "The Neighbor". The film is said to be a comedy about a prospective presidential candidate under house arrest and a secret intelligence agent snooping on him. Distributor Warner Bros. Korea stated that "No decision has yet been made and everything is unclear," when asked about plans to reshoot the segments.
"I Want to Know Your Parents" revolves around a boy at a prestigious international middle school who is found unconscious after a fall in the lake. The plot comprises of the events following the fall when parents of all the students are called for investigation.
Oh Dal Soo played the role of a parent in this unreleased movie. 20th Century Fox Korea responded "There is no Korean film team at 20th Century Fox Korea as it is normally run by a project team. There is nothing set about the movie".
The third unreleased movie titled "Control" revolves around the confrontation between criminals and the agony of a father whose daughter was abducted by a rogue. While the producer planned to reshoot the scenes with a new actor, the idea has been dropped out and the distribution company is also unclear about their stand.
A movie insider quoted "It's been a while, but it's still unclear whether Oh Dal Soo's films will be released. It is best to postpone the premieres as it is too late to reshoot and the distributors have started to focus on other projects".
As off now the three films have been dusted and packed to the attic till an amicable solution to the controversy is obtained.