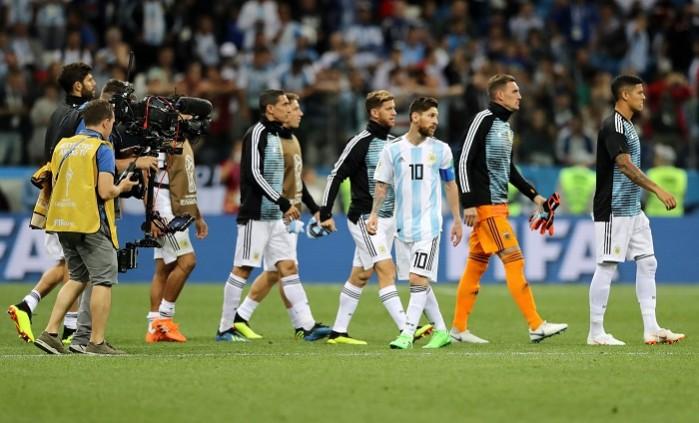 After the shambolic performance against Croatia, Argentina find themselves on the brink of an exit in this Fifa World Cup 2018, with Lionel Messi's side needing all sorts of help from the other teams in Group D to qualify for the knockout rounds.
Here are a few scenarios that will be in play going into the final round of matches in Group D.
If Iceland beat Nigeria on Friday:
Now, this is the one that Argentina really need to worry about, because if Iceland win against Nigeria, then the qualification to the knockout rounds is entirely out of the South American side's hands. Because with four points from two matches, Iceland will need just a draw against Croatia to qualify, as the maximum Argentina can get at the moment is four points, assuming they will pick up a win over Nigeria.
Millions and millions of Argentina fans and a few more million Messi ones will be praying for a Nigeria win.
So what happens if Nigeria beat Iceland?
This is the best-case scenario for Argentina at the moment. They want Nigeria to win, leaving qualification, somewhat, in their hands. If Nigeria beat Iceland in Volgograd, then the African side will have three points, with Argentina and Iceland on one each.
The final two group games – to be played simultaneously – will be Nigeria vs Argentina and Iceland vs Croatia. If Argentina beat Nigeria, that is Nigeria out of the running for the knockout rounds, but it doesn't mean automatic qualification for the Albiceleste.
Because, if Iceland top Croatia – entirely possible, considering they bested Croatia in the European qualifiers group – then both Argentina and Iceland will end up with four points each, meaning it will all be down to goal difference.
So, the best chance for Argentina to qualify will be to smash in as many goals as possible against Nigeria, but the way they have performed in attack so far in this Fifa World Cup 2018, is that even possible?
If Nigeria and Iceland draw:
Now, this is another scenario that would leave Argentina's fate out of their hands.
A draw for Iceland on Friday would mean, they can pick up a maximum of five points, one more than is possible for Argentina. Of course, Iceland would have to beat Croatia to do that, but with that draw meaning the Croats are guaranteed top spot in Group D, that might very well be possible, considering Luka Modric and co would have nothing to play for, and could rest their stars in preparation for the last 16.
Therefore, Argentina have the best chance to qualify if Nigeria manage to pick up the three points against Iceland on Friday. Considering how poor Nigeria were, and how toothless in attack they looked against Croatia, that might be a tall order.
However, this has been a World Cup of surprises, so it wouldn't be a surprise, and maybe those prayers of millions of Argentina and Messi fans will be answered.