Chelsea midfielder N'golo Kante, as expected, played a key role in helping France win their second World Cup title in Russia on Sunday, July 15.
The 27-year-old had earned his first cap for France as recently as in 2016 after his victorious Premier League campaign with Leicester City. Nonetheless, he has been an indispensable member of the Didier Deschamps' unit ever since.
The Parisian also became the first-ever player to win back-to-back Premier League titles with two different clubs. The extremely effective defensive midfielder was sold to Chelsea for €36m and he went on to win the Premier League Player of the Year award in his debut season at Stamford Bridge.
Despite all the achievements in his nascent international career, Kante is a reserved person. He is only visible when he is breaking down oppositions' attacking moves or initiating attacks himself.
The Chelsea midfielder, known for his humble outlook, was at it again when he was spotted waiting for his turn to pose the Jules Rimet Trophy after France's win over Croatia at the Luzhniki Stadium in Moscow.
According to Get French Football News, Kante was too shy to ask for the trophy even as his teammates were posing for the shutterbugs around him.
The online portal quoted sources while saying Sevilla midfielder Steven N'zonzi spotted the hesitant Kante and asked his teammates to let the Chelsea star get his hands on the trophy. A video of the episode was also shared on social media.
France stars' special song for 'beautiful' Kante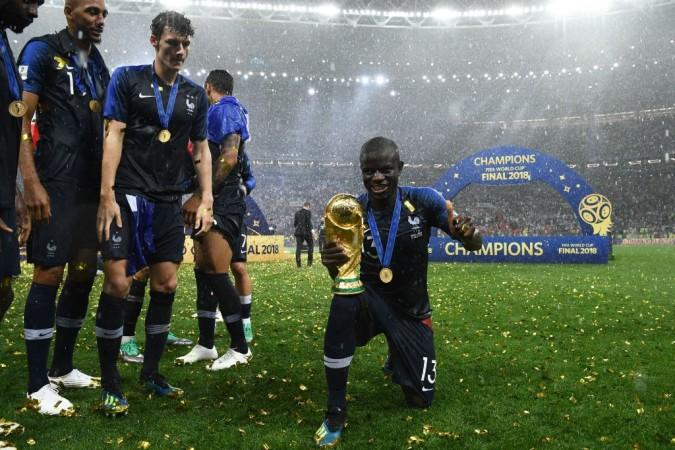 Meanwhile, Kante's reaction to his teammates singing his name in the team bus is winning hearts on the internet.
Members of the victorious French team were singing: "N'Golo Kante, N'Golo Kante, he's short, he's beautiful, he's the one that stopped Leo Messi, N'Golo Kante," according to The Metro. Kante though can be seen glued to his seat with a shy smile on his face.
Even though Kante missed the Golden Boot Award, which went to Croatia's Luka Modric, the Les Blues' star has won a lot of praise for his exploits in Russia.
His combination with Paul Pogba and Blaise Matuidi in the engine room was one of the highlights of the recently-concluded quadrennial tournament.
Former England international-turned broadcaster Gary Lineker paid Kante a huge compliment when he opined that the Parisian was the best player at the World Cup in Russia.
"He's not really the type of guy we speak about or try to push forward as a star. With Kante, France play with 12 men. He counts as two midfielders on his own. He's everywhere," Lineker had told L'Equipe.