Fifa World Cup 2018 provided football fans a lot of moments to cherish right from the opening night to the final Sunday in Russia.
The 21st edition of the quadrennial tournament came to a fitting end as it had one of the most dramatic World Cup finals in the history of sport. France scored four goals in a six-goal spectacle against Croatia to bag their second World Cup title in Moscow.
As if the on-field drama wasn't enough, the post-match ceremony and celebration kept audiences hooked to their screens on Sunday, July 15.
Russian president, Vladimir Putin inevitably became one of the talking points on social media during the post-match presentation ceremony, during which the heavens opened up in Moscow.
Putin was the only leader on the podium who used an umbrella to keep himself dry. French president Emmanuel Macron and his Croatian counterpart Kolinda Grabar-Kitarovic, who shared the stage with the controversial leader, were happy enough to get soaked in rain and celebrate the historic moment.
Netizens were quick to point out the Putin's "umbrella guy" and how the other two leaders were made to wait for their umbrellas on Sunday.
French president's dressing room dab with Paul Pogba
The French president was a delighted man and he was spotted passionately celebrating from the stands of Luzhniki Stadium during the action-packed final.
Macron, it seems, joined the French players during the post-match celebrations in the dressing room. The 40-year-old leader joined Paul Pogba and Benjamin Mendy in the former's trademark goal celebration move - the dab.
The Manchester United midfielder and his teammate had decided to teach Macron how to dab. In videos circulating on social media, the president can be seen trying his hand at the famous celebration move.
Internet loves the Croatian president's post-final gesture
Meanwhile, Croatia president Grabar-Kitarovic added to her ever-increasing fan base with sporting gestures during the presentation ceremony.
Dressed in the Croatian red-and-white chequerboard patterns, the 50-year-old was enjoying the moment, giving hugs to players from both sides as they came to collect the winners and runners-up medals.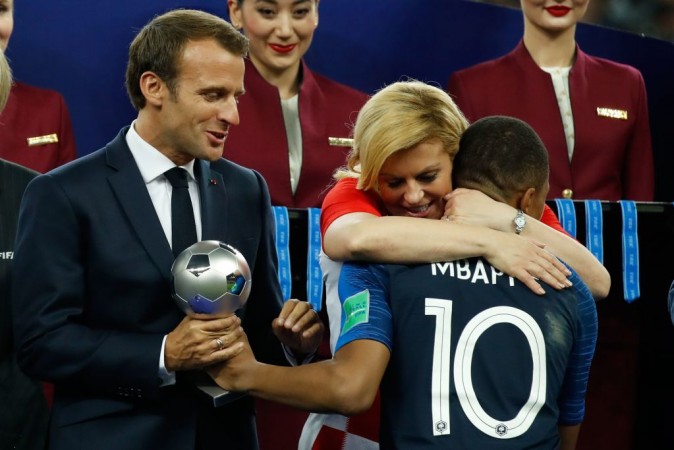 She was even spotted sharing light moments with her French counterpart on the podium, minutes after the Croatian national team's disappointing defeat.
Grabar-Kitarovic had been making headlines and winning hearts from across the globe with some heartwarming gestures on her Russian World Cup trip.
The ever-enthusiastic woman had flown economy class with fellow Croatian fans and even snubbed a VIP accommodation to join the celebration from the stands during the team's Round of 16 win over Denmark.
She was also spotted partying with Luka Modric and his men in the dressing room after Croatia cleared the quarter-final hurdle earlier this month.