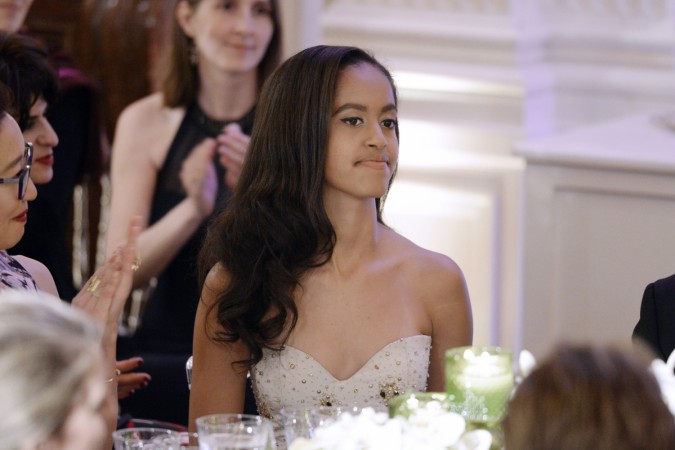 Malia Obama just sported a chic date outfit when she stepped out on the streets of NYC with her British boyfriend Rory Farquharson.
The former first daughter, who could easily give Ivanka Trump a run for her money, was spotted laughing and talking through her street date, Daily Mail reported.
Also read: Who is Malia Obama's boyfriend
While the NYC streets served as the perfect outing location for the couple, the cold did not bother Malia too much as she was spotted wearing a short floral tea dress for the occasion. The buttoned-down dress featured a plunging V-neckline.
She teamed up the printed outfit with a pair of Dr Martens combat boots and an oversized padded coat.
Matching her nail paint with her outfit, Malia limited her accessories to tiny looped earrings and a couple of gold bands on her fingers.
Her boyfriend chose to protect himself from the cold with a blue jacket over a grey T-shirt and a pair of black jeans and shoes. He sported a pair of pink-tinted round-glasses.
The couple were seen chatting and laughing. Paparazzi captured an adorable moment when an assumingly tired Malia was seen leaning on Rory while he checked his phone. The couple's recent spotting comes weeks after Malia was photographed kissing the lad at a Harvard-Yale football game.
Malia's style has always been top notch. From her amazing fashion choices during her internship days to her attires for formal engagements with her family, Malia has always oozed confidence — even during candid shots.
It looks like Barack Obama's oldest daughter has found comfort in the tea dresses. A few days ago, Malia was spotted wearing a similar-style dress when she left a hotel in Miami with her mother Michelle Obama.
The mother-daughter duo was spotted on the beaches of Miami bikini-clad without Barack or Sasha. Check out the photos here.