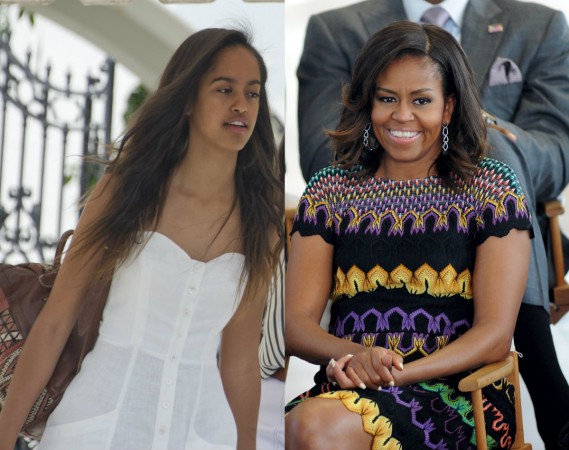 In one of the rarest of sights, former first lady of US Michelle Obama has been spotted sporting a white bikini top and cut-off shorts during her vacation in Miami. The former first lady was accompanied by her elder daughter while Barack and Sasha were nowhere to be seen.
The pictures shared by Mail Online saw the Obama wife oozing confidence while taking a stroll on the beach. Malia wrapped herself in a hoodie flashing her bikini bottoms.
Also read: Malia Obama smokes after kissing a mystery man
Over the stunning beach wear and ripped shorts, Michelle sported a transparent unbuttoned shirt and tied her hair into a bandana. She sported square shaped sunglasses as she made her way to the beach.
On the other hand, Malia looked like she did not want to attract too much attention from onlookers. Hence, she picked out a light coloured hoodie atop her beach outfit. However, she flaunted her toned legs and a black bikini bottom while walking down the Miami destination with her mother. She completed her look by sporting a pair of round-shaped golden-rimmed sunglasses.
Malia, like her mother, held on to her footwear on one hand while she carried a note pad, her phone and an iPhone charger in the other.
According to the site, the mother-daughter duo was seen walking on a Miami Beach on Saturday. The Obamas were joined by friends, including former Obama administration senior advisor Valerie Jarrett - and Secret Service personnel.
After their day at the beach, Malia and Michelle were spotted vacating the hotel they were staying in with numerous bags tagged along with them. Before they left the city, the two women reportedly dinned at Prime 112 steakhouse.
For the evening attire, Malia chose to slip into a polka-dotted black short dress and shoes. Michelle took the trendy way out when she wore a pair of high-waisted trousers with a green tank top and blue cardigan.
Malia is currently studying at Harvard and is enjoying her winter break. A few days ago, Barack revealed how devastated he was when he dropped off Malia at university last year.