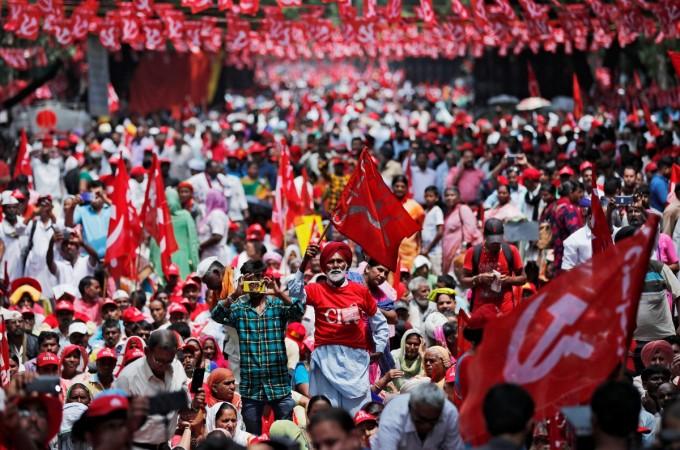 At least one lakh farmers from across the country came together in Delhi for the Mazdoor Kisan Sangharsh rally on September 5 to demand an increase in pension, remuneration and debt waivers.
The capital city was a sea of red as the farmers thronged the street, marching from Jantar Mantar to Parliament Street.
The rally was organised under the joint leadership of Centre of Indian Trade Unions (CITU), All India Kisan Sabha (AIKS) and All India Agricultural Workers Union (AIAWU). This is the first time a farmers' rally has been organised under a left-oriented organisation.
"This is a historic union. For the first time, workers and farmers have marched together in such numbers to protest the government policies," said Tapan Sen, general secretary of the Centre of Indian Trade Unions (CITU), to The Hindu.
Over 30,000 farmers were put up at the Ramlila Maidan, according to The Wire. More protestors were supposed to stay there but it was impossible due to the incessant rains which have been lashing the city for the past week.
Vijoo Krishnan, joint secretary of the All India Kisan Sabha (AIKS) said, "We could only manage to ready about 40 percent of the ground. So then we arranged for some people to stay in gurdwaras, others in a camp in Sahibabad and some in guest houses," according to The Wire.

The protestors are already gearing up for the next protest which will be held in November. Vijoo Krishnan told The Hindu, "From November 28 to 30, we will hold a 'Long March of the Dispossessed'. It will not just be farmers, but also the landless, Adivasis, Dalits, workers who will come to surround the four corners of Delhi."
The All India Kisan Sangharsh Coordination Committee is expected to play a major role in the upcoming rally in November.