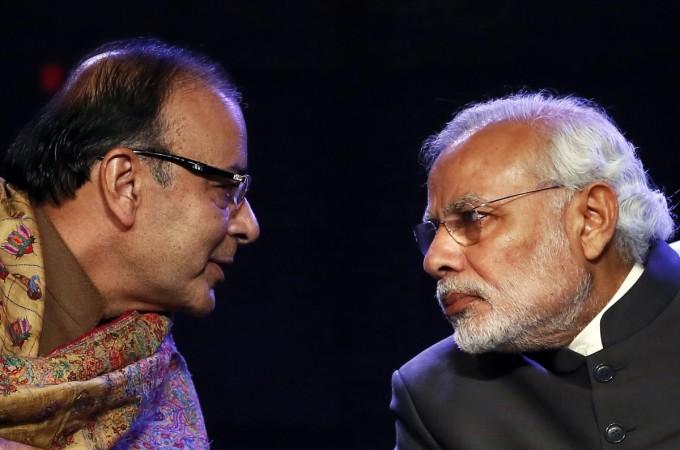 Prime Minister Narendra Modi is likely to hold a meeting to discuss the country's economy this weekend, according to multiple reports on Wednesday, September 12, that triggered a sharp recovery in rupee, which has shed 12 percent of its value this year.
According to reports by PTI, possible fiscal and monetary steps will be discussed at the meeting which will include the country's top finance officials. Both cited sources who asked not to be named.
"Finance minister Arun Jaitley, NITI Aayog vice-chairman Rajiv Kumar, Prime Minister's Economic Advisory Council chairman Bibek Debroy and finance secretary Hasmukh Adhia are among the officials who are likely to attend the meeting with PM Modi on Saturday, September 15", PTI quoted officials as saying.
Fiscal and monetary measures cannot be ruled out after the review meeting, nor a rate hike by the central bank, television channels said earlier in the day, prompting a recovery in rupee from record lows. Indeed, talk of an unscheduled increase in the rate (between two meetings of the Monetary Policy Committee) has been doing the rounds for a few days.
Nosediving rupee, skyrocketing fuel prices
According to a Hindustan Times report, the rupee's performance also has a bearing on fuel prices, which have been rising to new highs since August 31, triggering fresh concerns of a price rise that may trickle down to essential commodities.
The trend has also widened India's current account deficit, and led opposition parties to organise a nationwide strike on Monday which affected life in at least eight states, though it was largely uneventful across the country.
There was no fundamental rationale for the rupee to depreciate to the low levels of the previous session, Subhash Garg, the economic affairs secretary, wrote on social network Twitter.
"It (rupee fall) reflected overreaction of market operators. Government and RBI will do everything to ensure that rupee does not slide to unreasonable levels. Today's correction seems to reflect that realisation." Analysts are of the opinion that at least some of the currency's fall has to do with sentiment.
While the structure of the meeting is not known, according to PTI, it could review macroeconomic indicators, government finances and implementation of flagship financial inclusion and other development schemes as well.