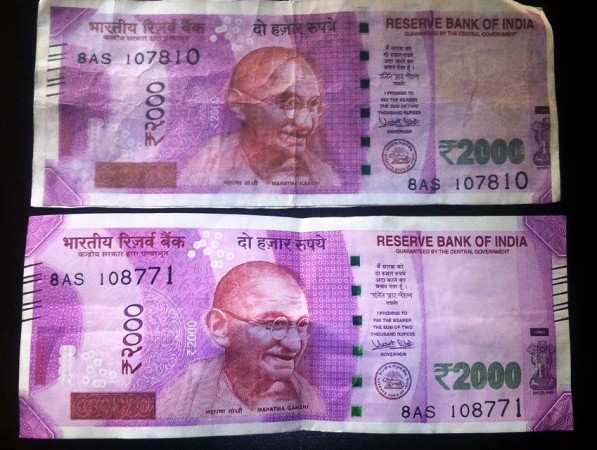 It has been just days since the Reserve Banks of India (RBI) introduced Rs 2,000 currency notes to the public, issuing them in exchange for Rs 500 and Rs 1,000 notes that were scrapped as legal tender by Prime Minister Narendra Modi on November 8, and it seems the first fake note of the denomination has already surfaced.
A trader in Karnataka was reportedly duped by an unknown individual with a poorly photocopied Rs 2,000 currency note, primarily because the former was not aware of the features of the high-denomination currency note, which can be found here.
A case of cheating — under Section 420 of the IPC — has been registered in this regard with the Basavanahalli police station in the Chikkamagaluru district of Karnataka, local police sources told International Business Times, India. The case is not at the Chikamaglur Police Station, as has been mentioned in some reports.
Sources from the police station said Ashoka Gowda, an onion trader by profession, had been handed the fake currency note by an unidentified person early in the morning on Saturday, November 12, to pay for a specific purchase at the local agricultural produce market committee (APMC) bazaar.
Gowda accepted the currency note, but when he later showed it to others in the APMC market, they pointed out to him that it did not look original. That was when he approached the local police station, registering a complaint around 8 a.m. on Saturday. A sub-inspector has already been assigned as the investigating officer in the case and is probing the incident, the local police source told IBTimes India.
Features that should have been spotted
The Central government and the RBI decided to scrap the older high-denomination notes and bring in the new Rs 2,000 notes for a variety of reasons, among which was the crackdown on fake currency notes. The current case should not mean that that crackdown failed, simply because this was an isolated incident.
As is evident from the photo above, Gowda should have immediately spotted that the note was fake, due to a number of discrepancies between it and the original. And even if he could not see it, his sense of touch should have told him that it felt too flat, as opposed to the originals, which have a number of their writings slightly raised.