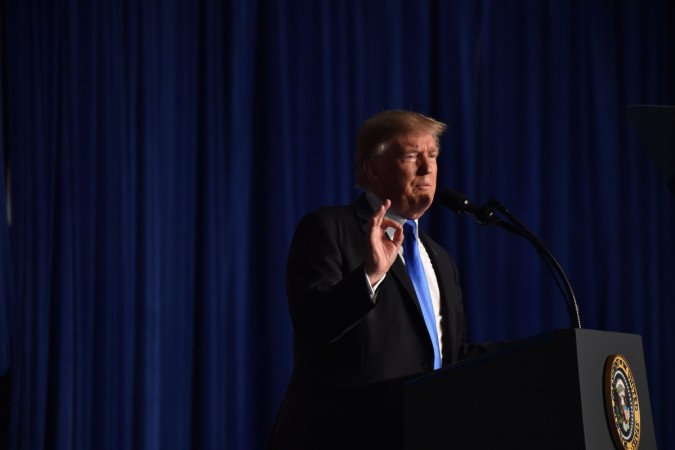 US President Donald Trump has given out his much-talked-about Fake News Awards and it doesn't come as a surprise that CNN was the star of the event. Trump has, in the past, often lashed out at CNN for allegedly reporting false news about him and he made his wrath evident while giving out the awards.
He named the New York Times twice, and ABC, Time magazine and Newsweek received one nod each.
Here's the full list as per GOP:
The New York Times -- Paul Krugman had claimed that the US economy would never recover under Trump.
ABC News -- Brian Ross sent the markets tumbling after he reported in December 2017 that Trump, during his presidential campaign told Michael Flynn to contact Russian officials before the election. Ross later clarified that Trump had asked Flynn to contact with Russia after the election.
CNN -- For claiming that Trump and his son Donald J. Trump, Jr. had access to hacked documents from WikiLeaks before it was made public. It later clarified that Trump was given access to it after the documents were made public.
Time -- For claiming that President Trump removed a bust of Martin Luther King, Jr. from the Oval Office. Time later issued a clarification.
Washington Post -- For reporting the President's rally in Pensacola, Florida, which was sold out, was empty. The paper's reporter issued an apology later on.
CNN -- For showing a fake video of Trump overfeeding fish in Japan.
CNN -- For reporting about Anthony Scaramucci's meeting with a Russian.
Newsweek -- For reporting that Polish First Lady Agata Kornhauser-Duda did not shake President Trump's hand. Newsweek is a part of Newsweek Media Group, which also owns IBT Media. Newsweek later updated the story and reported that the two did shake hands later.
CNN -- For reporting that ex-FBI Director James Comey would dispute Trump's claim that he was told he is not under investigation. CNN later corrected the story and said Comey did not dispute Trump and he was told that he wasn't under investigation.
The New York Times -- for reporting that the Trump administration had hidden a climate report. Time later clarified: "While it was not widely publicized, the report was uploaded by the nonprofit Internet Archive in January."
Trump also said that "Russian collusion was perhaps the greatest hoax perpetrated on the American people."
The US president was supposed to announce these awards on January 8, but postponed it to January 17. "The Fake News Awards, those going to the most corrupt & biased of the Mainstream Media, will be presented to the losers on Wednesday, January 17th, rather than this coming Monday. The interest in, and importance of, these awards is far greater than anyone could have anticipated!" Trump had tweeted.