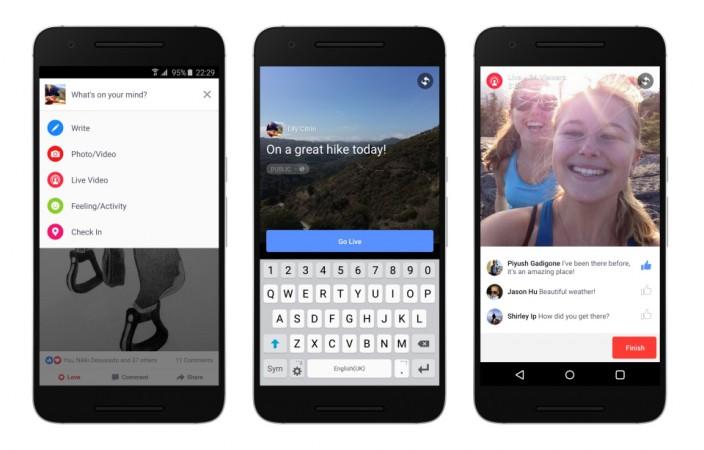 Facebook announced Friday it would start rolling out its Facebook Live feature for Android users, a month after it was launched on the iOS platform. The largest social networking platform in the world also said the new feature would be available in more countries in the coming weeks.
Facebook Live is identical to Twitter's Periscope app, but integrated within the social networking platform. The new feature lets users broadcast videos live and interact with others by responding to the real-time flow of comments.
"We know that people on Android love interacting with live videos — more than 50 percent of people watching live videos are using Android devices," Vadim Lavrusik, product manager and Dave Capra, engineering manager at Facebook, wrote in an official blog post Friday. "We're excited to announce that in the next week we are going to start rolling out the ability for people on Android to share live video."
In order to get started, users must tap on the broadcast icon in the "What's on your mind" section. Once the broadcast begins, users can see the number of live viewers, friends who are tuned in and real-time comments. When the broadcast ends, the saved video will appear on the Timeline like it usually does. Users can also subscribe to any particular broadcaster to get notifications when they go live again, the company said.
Facebook Live is available to all, including public figures as well as verified pages.
Facebook said it would launch Android support for Live in the US before rolling it out to other countries. The feature is currently available in more than 30 countries and is generating a lot of user engagement.
"Live videos on Facebook are authentic and exciting, and we're seeing people tuning in and engaging directly with broadcasters in the moment," Lavrusik and Capra wrote. "In fact, we've seen that on average people watch a live video more than three times longer when it is live compared to when it is not live."