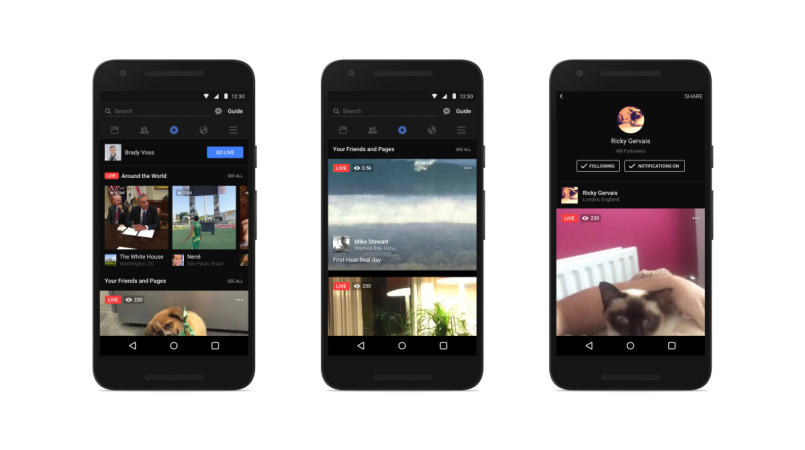 Following Twitter's Periscope, an interactive live streaming service, Facebook has launched its own feature, Facebook Live. The new live streaming feature lets users shoot videos and stream them live to their friends and families.
Facebook initially introduced the live streaming feature for public figures through its Facebook Mentions app, after which it made the service available to users in the U.S. Now, the social media giant is rolling the feature out to its users around the world and has added it to its list of functionalities, Facebook said in its blog.
With the new and improved Facebook app, users can not only broadcast live, they can discover live streams. By tapping on the new video icon, users can access the videos posted and streamed by the users they follow, and also go live themselves and invite friends to watch. Facebook has also rolled out the Facebook Live Map, which lets users see who's streaming around the world and tune in.
Facebook is banking big on interactivity with Facebook Live. Like with Periscope, the feature's biggest competitor, users can interact with the broadcasters by sending reactions, which appear in real time across the screen. And unlike Periscope, the videos can be saved for more than just 24 hours. Facebook says these interactions are like "hearing the crowd applaud and cheer." Users can also comment on the videos and for the creators, Facebook has included a set of five Live Filters. Soon, Facebook reports, it will also allow users to doodle on their videos as they stream, turning up the fun.
However, this may not really be what users want to see in the app but more what Facebook wants to see. Facebook product manager Fidji Simo, who oversees video content, says the service is getting a lot of traction. But then, Facebook also surreptitiously enabled autoplay videos and claimed that a lot of people were watching them, Re/code points out.
For Facebook, the future of communication is video, TechCrunch reports. It also says Facebook is confident that it can beat Periscope at its own game. After all, it does have a user base of about 1.5 billion. Facebook also apparently has been funding some news outlets to broadcast live video on Facebook instead of on their own websites.
"We're offering very early financial incentives to figure out the production up front and set up the studios," Simo told TechCrunch. "This is really meant for them to get started on the format but the goal is to find a long-term monetisation model that works for them."
While Periscope boss Kayvon Beykpour, in an interview with Re/code said he is unfazed by Facebook Live, it still should give them reason to sit up and take notice. While their 200 million broadcasts may keep them in relative comfort, what will become of Meerkat, LiveStream, UStream and the others is something to be found out.