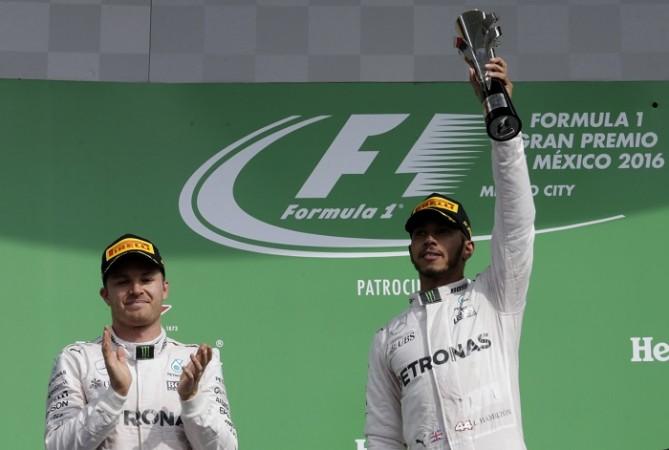 Lewis Hamilton did what he had to do, but so did his Mercedes teammates Nico Rosberg and while the battle for the Formula One drivers' championship was prolonged to at least the penultimate race of the season, thanks to the former's victory at the Mexican Grand Prix, the German looks primed to clinch the first title of his career.
Hamilton drove like a dream to take pole position in Mexico and once he made sure there would be no starting trouble this time out, he eased to victory.
Unfortunately, from Hamilton's perspective, though, Rosberg was right behind him throughout to take second, which means a second-place finish in Brazil and a third-place finish in Abu Dhabi will be enough to crown him the new F1 champion. With the win, Hamilton cut the lead to 19 points, but the odds remain very much against the 31-year-old.
"It's a shame these results are coming so late in the season, possibly too late," Hamilton, who has had to deal with engine and starting problems this season, said. "You can look back at say that maybe if Malaysia didn't happen then I'd be in a different position right now. But that's motor racing.
"All I can do is my best and hope things go as they have done for the past two weekends. History has shown that it's never too late – that's why I keep pushing and doing everything I can to repeat weekends like this. I hadn't won here before so it's a great feeling to do that in front of this incredible crowd. Now my sights are fully set on Brazil."
The problem with Brazil, for Hamilton, is that it is a race the defending champion has never won, and the flawless manner in which Rosberg is driving at the moment, even if the Brit does overcome that record, he is still likely to find himself behind in the points going into the final race of the season.
"If I can take this kind of performance into the next weekend I'll be in a good position," Hamilton added. "Ultimately, as long as I feel I did the best I could in these final races, I can be happy at the end of the season."
While the Mercedes one-two was predictable, there was plenty of drama for the final podium place. A battle between Sebastian Vettel of Ferrari and Red Bull's Max Verstappen led to the latter being penalised for leaving the track. Vettel looked to have locked up third place as a result, however, a 10-second penalty for under-braking in front of Daniel Ricciardo meant it was the Australian who would eventually end up on the podium, with the former world champion having to settle for fifth.
The Red Bull drivers were both in the points, with Nico Hulkenberg finishing seventh, while Sergio Perez took tenth.