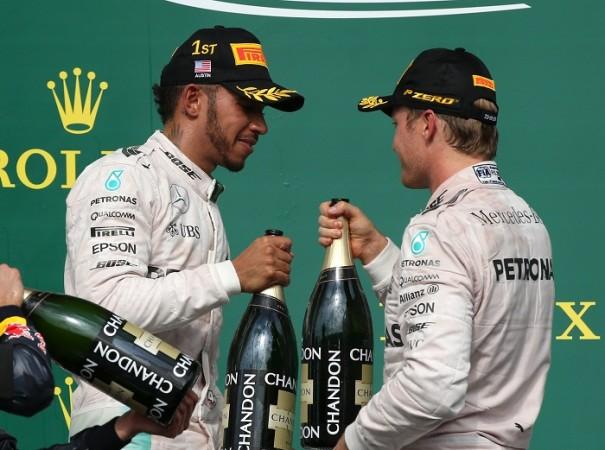 Even before the 2016 Formula One season started, one knew that defending champion Lewis Hamilton and his Mercedes' teammate Nico Rosberg were strong favourites. With three races to go for the season to end, Rosberg has a good chance of winning the title, but one should not rule out Hamilton, who has a decent chance to register his fourth drivers title.
If the British driver wants to win the title, there is no either way about it. Hamilton has to win the last three races of the season in Mexico, Brazil and Abu Dhabi, and hope Rosberg finishes second in one of them and third in two.
Lewis Hamilton, who was trailing by 33 points prior to the United States Grand Prix last weekend, closed the gap on Rosberg to 26 after winning the race on Sunday. This win has spiced things for the final three races of the season. Rosberg, at present, leads the table with 331 points while Hamilton is on 305.
So if the British driver manages to win the last three races of the season, which means 25 points per race, his tally will increase to 380. And if Rosberg manages to finish second in all the three races, the German will still clinch the title by five points as he will accumulate 18 points per race, leading to 385 points.
But things can change if Hamilton wins all three and Rosberg finishes second in only one of the races and third in the other two, which will mean the defending champion will have 380 and Rosberg will finish with 373 points.
However, Rosberg has a chance of lifting the title in the next race – Mexican Grand Prix – itself, which can happen if Hamilton has a disappointing day, and fails to score any points in the race while the German wins the race. If that happens, Rosberg will have a lead of 51 points with a maximum of 50 points left to be won in the final two races, which would close the doors for Hamilton.
But the way Hamilton drove to a comfortable win in the United States GP, one does not see him going empty handed from the race unless his engines fail him, which has happened this season. As of now, both the drivers will focus on the Mexican GP, which will take shape on Sunday.
Anyways, the Formula One 2016 is heading to a dramatic finish.