Kimi Raikkonen, one of the most experienced Formula 1 driver who turned 39-year-old last week, won the 2018 United States Grand Prix at Austin's Circuit of The Americas on Sunday. Raikkonen aka the Flying Finn and Iceman has earned his 21st career victory and become F1's oldest race winner since Nigel Mansell in 1994.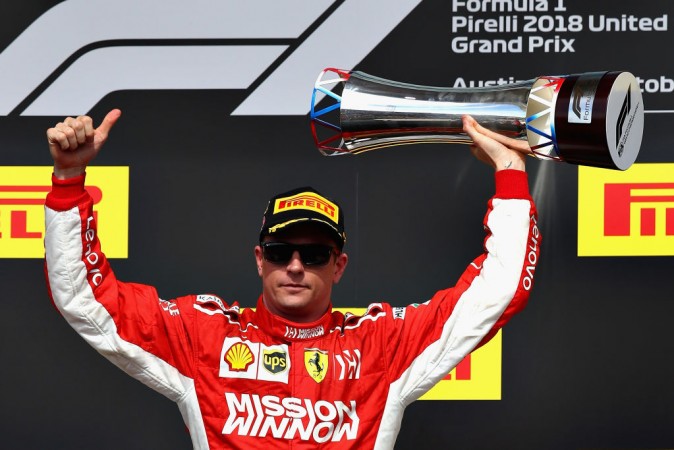 It took 2,044 days and 113 races for Raikkonen to win a Formula One race again after victory with Lotus in Australia in March 2013. The 2017 World Champion has come close to victory several times since re-joining Ferrari in 2014. However, the win kept on eluding from the Finn till the race at Austin. Kimi Raikkonen will move to Sauber next year, and the US Grand Prix win lets him leave the Red squad on a high note.
Raikkonen in his typical style downplayed the result saying, "It's not a big deal for me, it's a much bigger deal for a lot of the people. If it comes, it comes; if it doesn't, it really doesn't change my life one bit."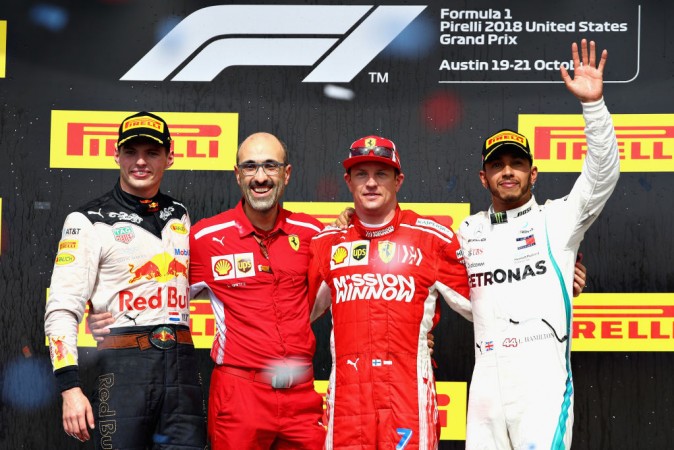 Lewis Hamilton will have to wait till Mexico GP
Championship leader Lewis Hamilton (Mercedes) had a perfect qualifying and started the race from pole position. Everybody was expecting an easy finish for Hamilton and the Brit was supposed to wrap up this year's championship at United States Grand Prix with three races to spare.
However, resilient Kimi who started from P2 made the move even before the first corner. Though Hamilton tried to defend Kimi, the move couldn't fructify against Kimi's race pace. With the Virtual Safety Car (VSC) deployed to allow marshals to clear Daniel Ricciardo's car (again DNF for the Australian due to power unit issue), Hamilton was instructed to pit.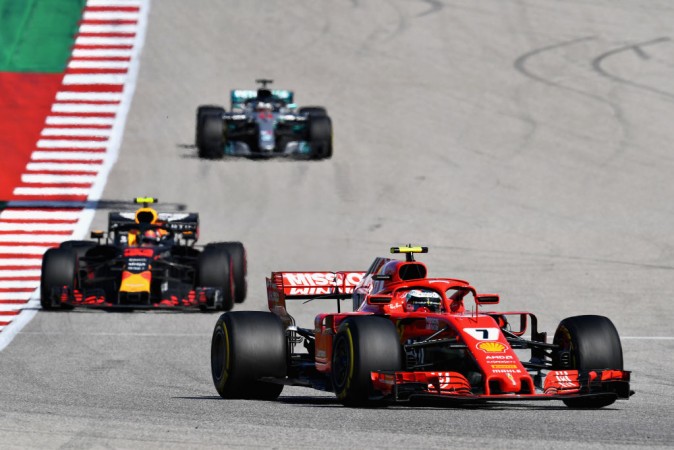 The Finn stayed out and while Hamilton re-joined the race soft tyres and losing minimal time in the process. Ferrari confidently told Raikkonen that Hamilton would need another pit stop with so much of the race to run. Eventually, Mercedes driver was indeed forced in for fresh rubber on lap 38 after suffering excessive tyre wear. He rejoined at P4 behind teammate Valtteri Bottas in third.
Hamilton had quickly passed Bottas and started chasing after Verstappen and Raikkonen, who were nine and 12 seconds up the road respectively when he rejoined. Even though Hamilton reduced the distance to just under 2 seconds by the penultimate lap, he was unable to overtake both and settled for the P3 finish.
The result has delayed the world championship crown for Hamilton for the next race at Mexico on 29th of this month.
Vettel spun and then fights back
Hamilton's championship rival Sebastian Vettel who was handed a three-place grid drop for driving too fast under red flags in practice started the race from P5. Vettel pushed hard to rank up in the order and that led battling with Daniel Ricciardo for the fourth place. He tangled with Ricciardo and spun on the first lap and re-joined the race at P15. In the end, Vettel laddered up and eventually finished fourth, with 75 available over the remaining three Grand Prix.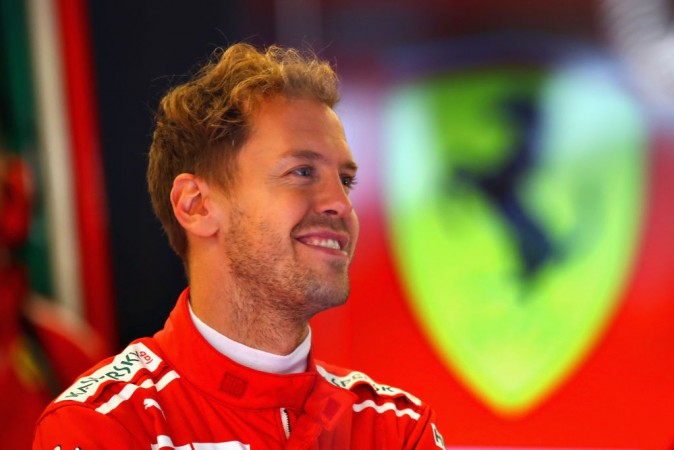 2018 United States Grand Prix – results
| | | | | |
| --- | --- | --- | --- | --- |
| Position | Driver | Team | Time | Points |
| 1 | Kimi Raikkonen | FERRARI | 0.065493553 | 25 |
| 2 | Max Verstappen | RED BULL RACING | +1.281s | 18 |
| 3 | Lewis Hamilton | MERCEDES | +2.342s | 15 |
| 4 | Sebastian Vettel | FERRARI | +18.222s | 12 |
| 5 | Valtteri Bottas | MERCEDES | +24.744s | 10 |
| 6 | Nico Hulkenberg | RENAULT | +87.210s | 8 |
| 7 | Carlos Sainz | RENAULT | +94.994s | 6 |
| 8 | Esteban Ocon | FORCE INDIA | +99.288s | 4 |
| 9 | Kevin Magnussen | HAAS | +100.657s | 2 |
| 10 | Sergio Perez | FORCE INDIA | +101.080s | 1 |