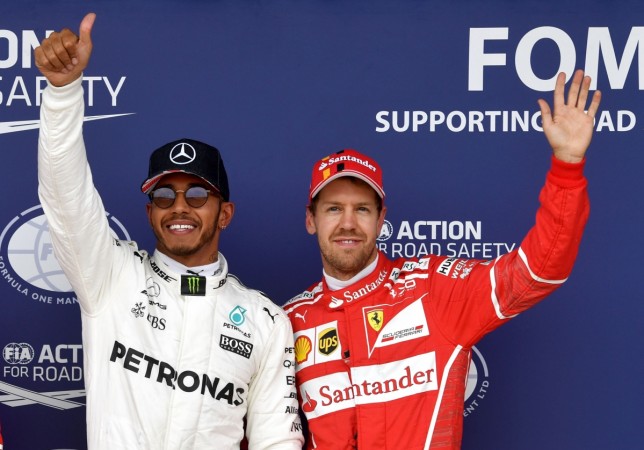 Sensational reports from France have emerged, linking Sebastian Vettel with a move to the Mercedes Formula 1 team. At a time when the battle between Ferrari's Vettel and Mercedes' Lewis Hamilton has intensified like never before, this piece of news does come as a major head-turner.
The contract of Vettel at Ferrari expires at the end of the F1 2017 season. There are talks that the four-time World champion from Germany will put pen to paper on a fresh three-year contract, but nothing has been confirmed from Vettel's side as yet.
READ: New F1 owners could lead Lewis Hamilton to quit the sport prematurely.
This is leading to major speculations that Vettel could join Mercedes, possibly in 2019. Vettel is being lined up as Hamilton's successor, IF ONLY the veteran British driver contemplates calling it quits, and moving to some other motorsport, as has been the talk in recent times.
Vettel invited Mercedes chief Toto Wolff to his birthday party in Switzerland this July and some insiders have opined that Wolff might have told Vettel to stick to Ferrari for another year, before shocking the F1 world by making the switch in 2019.
Ferrari are putting their best efforts to retain their star driver for the next three seasons. They are preparing a contract for the 30-year-old that is worth €120 million ($138.5 million).
It is also being reported that Ferrari's other driver, Kimi Raikkonen, would be offered a new contract only once they come out successful in retaining the services of Vettel for three more seasons.
A sensational coup by Mercedes of getting Vettel on board as early as in the 2018 Formula 1 season can also not be ruled out. The prospect of seeing Hamilton and Vettel in the same team looks completely unreal.
However, it may not be a possibility in the real world. There are three reasons:
The competitive interest in F1 will absolutely diminish.
Mercedes' other driver Valtteri Bottas is closing in on extending his contract for one more season, although he hasn't signed it yet.
Mercedes have to work their boots off to convince Hamilton that Vettel is teaming up with him. The relationship between the drivers has soured after what happened at the Azerbaijan Grand Prix 2017.