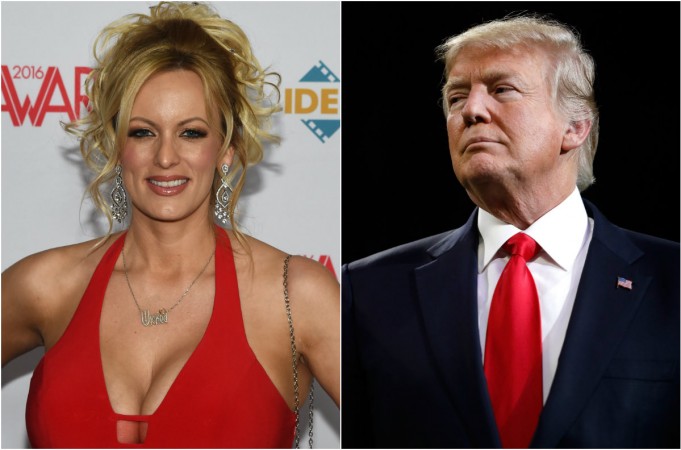 Stephanie Clifford — better known by her adult-entertainer name Stormy Daniels — landed bang in the middle of headlines once again on Tuesday, January 30, when she appeared to deny in a written statement her 2006 affair with current US President Donald Trump, but then seemed to reconfirm it on the talk show hosted by Jimmy Kimmel.
The final twist, however, came from her attorney who told the Guardian that it was Daniels herself who signed the written statement denying the affair. And this came after the Jimmy Kimmel Show!
The denial is expected to give Republicans and right-leaning news organisations and individuals enough fuel to defend Trump, who has been accused of not only having an affair with Daniels in 2006 — just after his third wife Melania Trump had given birth to their son Barron — but also paying Daniels $130,000 in hush money in the days leading up to the US Presidential election in 2016.
They may also see the interview as a violation of whatever non-disclosure agreement she may have had with Trump or his presidential campaign for $130,000. Either way, the "Fake News" debate is back on the burner.
Fake News debate rekindled
Many people took to Twitter to claim that the Wall Street Journal report that first talked about Trump and Daniels' rumoured affair was fake.
Here are some examples:
Stormy Daniels just ruined Jimmy Kimmel's attempt to spew fake news about Trump. No affair says Stormy Daniels in 2006, 2011, 2013, and now 2018. Fake News again attacking our President. Boycott ABC.

— Lock her up! (@RayR737) January 31, 2018
ExposThm... Stormy Daniels denies the attach piece that she had an affair with TRUMP. The left makes up more FAKE NEWS than they do report on real news. The left should be embarrassed.

— ExposThm (@ExposThm) January 31, 2018
The media covered it. Just not the fake news media (CNN NBC CBS ABC etc). They're too busy interviewing Stormy Daniels, who, by the way, played them all for fools!!

— MAGA (@MAGA2020USA) January 31, 2018
'It never happened'
Trump was preparing to deliver his State of the Union 2018 address on Tuesday, January 30, when a written statement purportedly from Daniels surfaced.
"Over the past few weeks I have been asked countless times to comment on reports of an alleged sexual relationship I had with Donald Trump many, many, many years ago," it said.
And then came the part that seemed to put the matter to rest for good: "The fact of the matter is that each party to this alleged affair denied its existence in 2006, 2011, 2016, 2017 and now again in 2018. I am not denying the affair because I was paid 'hush money' as has been reported in overseas owned tabloids. I am denying this affair because it never happened. I will have no further comment on this matter."
Images of the statement were shared widely on Twitter:
NEW statement from Stormy Daniels, who again denies the affair with Trump. This time she blames "overseas owned tabloids" for false reporting on hush money. Very odd way to describe the @WSJ. pic.twitter.com/r9QUfxkoWs

— Christina Wilkie (@christinawilkie) January 30, 2018
'Doesn't look my signature'
Daniels appeared on the Jimmy Kimmel Show just hours later — Tuesday night, local time — and set tongues wagging when she seemed to allude that the statement may not have been from her.
When Kimmel asked whether she had signed the letter, Daniels said: "I don't know, did I?" When the talk show host prodded her further, she asked back: "That doesn't look my signature, does it?"
Kimmel persisted on the topic and asked: "Do you know where it came from? Do you have any idea?" Daniels replied: "I do not know where."
This was construed as an admission that Daniels had nothing to do with the letter.
Additionally, Kimmel compared the signature in the latest statement to one that seemed to have been released on January 10, and the two didn't match. The more recent signature, however, did match those on "headshots" Kimmel displayed on his show.
Watch her full interview here:
Attorney contradicts Daniels
However, after the Tuesday episode of the Jimmy Kimmel Show, Daniels' attorney Keith Davidson told the Guardian in an email that she had indeed signed the new official statement.
"She was having fun on Kimmel and being her normal playful self," the Guardian quoted Daniels as saying.
He added: "The signature is indeed hers as she signed the statement today in the presence of me and her manager, Gina Rodriguez."