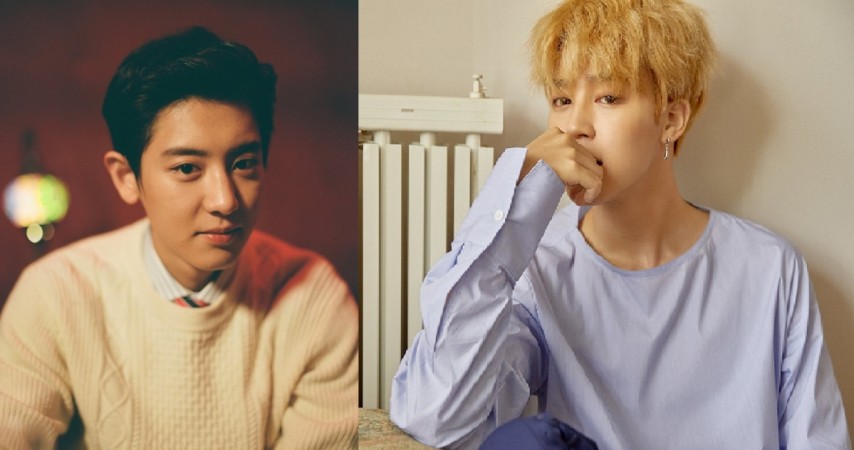 Young Korean heartthrob and EXO member Chanyeol seems to be a secret admirer of BTS member Jimin. He apparently becomes a fanboy whenever he meets the 22-year-old BTS member.
The EXO member reportedly flustered while interviewing the BTS member during the KBS Gayo Daechukje 2016.
Chanyeol could not take his eyes off Jimin's face after seeing his cute expression and innocent smile, reported Koreaboo.
Also read Does EXO have supernatural powers? Things to know about the band members' special abilities
The young Korean heartthrobs have already showcased their bromance during the Idol Star Athletics Championship.
Meanwhile, a section of fans were very confused to find a photo card of Chanyeol in the package of BTS' latest album Love Yourself.
An admirer of BTS and her friend shared the images of the photo card and the album on Twitter. The photos were companied with the words: "So my rl friend who's an army sent me this... Why the fuck did she get a pic of chanyeol in her bts album???? [sic]"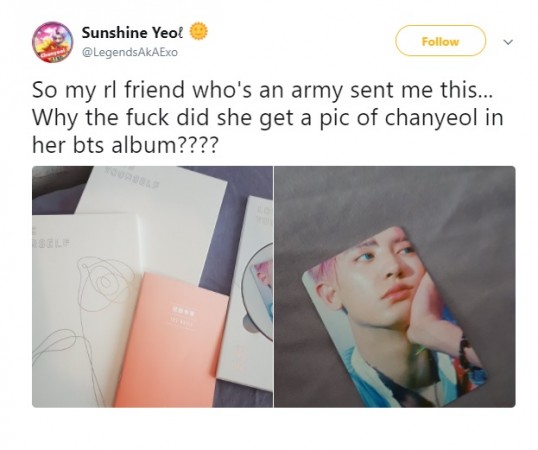 The social media post immediately captured the attention of many BTS fans and they came up with hilarious replies. Check out some of the response here:
He's the 8th member
i didnt know he was part of BTS!! guess he's the spy in EXO.
it's a win-win situation || bighit trying to tell ARMYs & EXO-Ls to stop the fanwars ~ we chill
Although Chanyeol may not be a secret admirer of Jimin, he surely loves EXO-Ls — the official fan group of EXO. He apparently expressed his love for them through a new tattoo on his wrist.
The young Korean heartthrob recently added a photo to his Instagram stories and it captured the attention of many of his fans.
Eagle-eyed fans noticed that his new tattoo has the numbers 485, and they speculated that it refers the establishment of EXO-L, honouring the group.