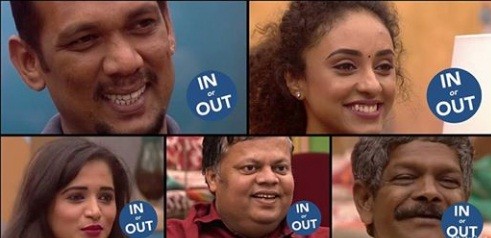 11.00 pm: Mohanlal asks the nominees to stand up. Mohanlal said that he will reveal the name of the person who will be evicted tomorrow.
10.45 pm: All the contestants now starts sharing their experience spending some time with Kamal Haasan.
10.40 pm: Mohanlal now informs Shiyas that his only problem is short-tempered nature. He reminded Shiyas again that the show is a direct reflection of his character. Mohanlal appreciated Suresh for his splendid performance. He asked Suresh to remain positive while inside the house.
10.38 pm: Kamal Haasan left Bigg Boss. Mohanlal is back in floor. The Superstar now addresses the contestants again. Mohanlal congratulated everyone for performing well in front of Kamal Haasan.
10.25 pm: "This man is keeping himself low. But this name, the name is enough. All the film personalities in India respect Mohanlal. We Keralites can be proud of having an actor like Mohanlal," said Kamal Haasan
10.22 pm: The camera now shifts to the Bigg Boss' floor. Mohanlal and Kamal Haasan now talks each other in the floor. Mohanlal says Kamal Haasan has acted in all Indian languages. "I am also privileged to act with Kamal Haasan. He is undoubtedly a text book for all the upcoming actors including me," said Mohanlal.
10.12 pm: Ranjini Haridas asked Kamal Haasan about his thoughts regarding the contestants in Malayalam. Kamal Haasan informed everyone that Bigg Boss is actually a social mirror. As per Kamal Haasan, the sixers which are being hit in Bigg Boss are actually emotional sixers. After giving advice to the housemates, Kamal Haasan now says Adios to the house
10.09 pm: Shiyas performs dance for the classical song in Vishwaroopam. After the performance, Kamal Haasan lauded Mohanlal saying that he is an impeccable performer. Later, Kamal shows the trailer of Vishwaroopam to the contestants
10.05 pm: Kamal Haasan appreciated Aditi for talking Kannada beautifully. Aditi elegantly acted Kamal Haasan's character in the movie 'Guna'. Everybody enjoyed Aditi's performance. Srinish starts imitating Kamal Haasan's character in Virumandi. Sabumon introduced himself and imitated Kamal's role in Avvai Shanmughi.
9.59 pm: Now, Ranjini Haridas introduces herself to Kamal Haasan. Ranjini starts imitating Kamal Haasan's role in Moondram Pirai. Mohanlal lauds Ranjini Haridas' moustache.
9.56 pm: Pearle Maaney now imitates Kamal Haasan's character in Vetaiyaadu Vilaiyaadu. Suresh imitates the role of Kamal Haasan in the malayalam movie Madhanotsavam. Later, Suresh sings a MGR song. Kamal Haasan sings along with him.
9.50 pm: Kamal Haasan enters the house in style. Contestants all jumps with utmost joy and happiness. Contestants welcome Kamal Haasan to the house. Anoop Chandran now starts imitating the character of Naidu from the movie 'Dashavatharam'.
9.42 pm: The contestants now starts dressing up as various characters from Kamal Haasan movies.
9.42 pm: Mohanlal now starts talking with the contestants. Initially, the Superstar congratulated Archana Suseelan for leading the house last week. Mohanlal said that Suresh looks like the nephew of Charles Branson. Mohanlal continues his philosophical talks and and ask everyone to find happiness from within themselves. The 'Odiyan' actor now asks Shiyas to control his anger.
9.35 pm: Kamal Haasan now enters the Bigg Boss house, and Mohanlal now calls for a break Mohanlal is back. The Superstar now talks about Anjali Ameer who said Adios to the house midway due to health issues
9.29 pm: Mohanlal and Kamal Haasan decides to give a new task to the contestants. The duo decides to ask the contestants to dress up as ten different characters which Kamal Haasan has enacted in movies. Kamal Haasan now enters the Bigg Boss house, and Mohanlal now calls for a break.
9.20 pm: Kamal Haasan entered the floor. Kamal Haasan informed that Mohanlal is not coming to the show today. The Ulaganayagan also informed that Mohanlal has gone to see 'Vishwaroopam'. Kamal Haasan says his Malayalam is not that great, but surprisingly, he speaks the language with utmost fluency. Kamal Haasan also says that he is now planning to make a movie with Mohanlal. Mohanlal enters the scene now. Kamal Haasan now starts speaking about Vishwaroopam 2. Mohanlal says Vishwaroopam will be a milestone in the Indian film industry. Mohanlal now recollects the memory of shooting the movie 'Unnaipol Oruvan'.
9.14 pm: Basheer Bashi and Shiyas soon engage in a verbal war. Shiyas tells Basheer not to teach him. Basheer evidently insults Shiyas. Srinish and Sabumon intervenes and tries to sort things out. Shiyas tells that Basheer is doing 'Monkey Show' inside the house. Shiyas says that Basheer is just a cheap Facebook celebrity with some reasonable number of fan following.
9.12 pm: Anoop Chandran says that he is not feeling well. He criticizes Bigg Boss for providing ration to the contestants. He adds that there is no ration card in his house. The 'Classmates' actor tells everyone that he wishes to leave the house at any cost.
9.11 pm: Pearle Maaney, Srinish and Aditi are seen talking about the issues in the house. Pearle informs everyone that she wants to resolve all the issues with everyone before she leaves the house.
9.05 pm: The time is 08.00 AM, and the teammates are seen preparing breakfast. Sabumon is talking about Suresh's relationship with Pearle to Ranjini Haridas. Ranjini Haridas told Sabumon and Archana Suseelan that Suresh's attitude cannot be encouraged.
9.03 pm: Basheer Bashi and Anoop Chandran are talking about the character of Aristo Suresh inside the house. Basheer Bashi complained that Suresh is a very possessive person who is only concerned about the wellbeing of Pearle Maaney
As the viewers of Bigg Boss Malayalam are eagerly waiting for this week's elimination, a close source to the show confidentially informed IB Times that there will be no eviction this week. The source said all the contestants who are now under the elimination sword including Pearle Maaney, Sabumon Abdusamad, Suresh, Aditi and Anoop Chandran will be moved to the safe zone by Mohanlal either in the Saturday or in the Sunday episode.
It should be also noted that Kamal Haasan who hosts Bigg Boss in Tamil is also paying a visit to the Malayalam house this week. The Ulaganayagan is visiting the house to promote his new movie 'Vishwaroopam 2' which hit the theatres on August 10, 2018.
A week back before Nandini Rai's elimination from the Telugu Bigg Boss house, a similar scenario happened in the house there too. Nani, the host of the show, informed the contestants that there will be no elimination, instead, he put up a poll to give re-entry to the eliminated contestants who already had said Adios to the house.
The news of no elimination in this week's Bigg Boss Malayalam has already gone viral on social media platforms like Facebook. Most of the viewers argue that Asianet is mocking the entire Kerala community as they asked the people to vote for elimination throughout the week. Some other people believe that Asianet is making a clever move like this to safeguard strong contestants like Anoop Chandran and Aditi who are now in the danger zone.
Even though we cannot guarantee the absence of elimination this week, chances of a participant who will get evicted from the house this week is most unlikely. If the elimination happens, the most probable contestant who will go out of the house will be Anoop Chandran. Aditi Rai is also in the extreme danger zone, but her fans in social media spaces may save her from getting evicted. Pearle Maaney, Sabumon Abdusamad, and Suresh will mostly stay in the house without any problem.