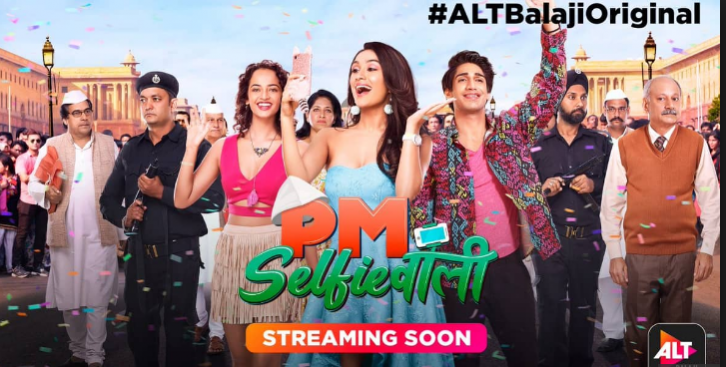 Ekta Kapoor's ALTBalaji has launched a new fun, fashionable and youth-centric web series called PM Selfiewaali. Starring Nityaami Shirke in the lead, the 7-episodic series also marks the digital debut of veteran actress Beena Banerjee.
Directed by Ashima Chibber, of Mere Dad Ki Maruti fame, the show also features Paaras Zutshi, Pranay Pachauri, Anjali Sivaraman, Shaan Groverr, Aditi Kalkunte and Ramakant Dayma.
The show is fresh in terms of its concept and tells a story that has not been told before by any Indian digital platform. PM Selfiewallie revolves around the life of Tanya Bansal Thakur - a fashionista speaks in hashtags, loves her life and two doting friends and is a quintessential modern day-NRI, born and brought up in London; who through a series of interesting events becomes the prime minister of the country!
The show has its own comic elements but also throws light on some of the existing relevant issues and shows how a young leader would run the country if given a chance - in this case, Tanya who the entire nation and the country's political set-up thought was incapable of managing it. Tanya will be seen dealing with such issues in a fun and humorous way.
In an exclusive interview with International Business Times India, the lead actor of the series, Nityaami Shirke, reveals a lot of about the show and herself.
Here are excerpts from the interview:
IBTimes India: Can you tell us a little about the whole concept of the show, the inspiration behind it and your role?
Nityaami: The show is all about entertainment and is supposed to be taken in a light-hearted way. It's not based on anything or anyone. It's a really cute concept. I loved the script as soon as I read it and I'm a huge fan of chick-flicks. So, it's very much a chick-flick and it has got a whole lot of underlined issues as well. The story revolves around this girl Tanya Thakur who lives in India and her daadi (grandmother) comes up with a plot to make her the PM but she (Tanya) has her own hidden agenda, which will be revealed after two or three episodes. So, she gets on board but thinks that she would be a laughing stock but Tanya has this charm and this energy somehow you know unknowingly in a clueless way she will win people over.
The story is about how she battles the issues in her own unique way. There are a lot of fun situations that she has some problems that she has to tackle. So, the question remains, if India succumbs to Tanya or not and that's something that will be revealed once you watch the show.
IBTimes India: What message do you think the show is trying to give to its audience?
Nityaami: I resonate a lot with Tanya's character because she is very clueless. And she is typical of the selfie generation. She is a little bit vague but very aware when it comes to certain things. She is a really fun, positive and ambitious girl. I feel like throughout the show she doesn't change for anybody. She makes sure that she gets things done but remains who she is even if people laugh at her or even if people say things to her, she still stays who she is and I love that about her. And it's about her determination and her charm and just the way she is.
IBTimes India: So, is the role that you're playing on the web series similar to your personality too?
Nityaami: Similar? Yeah, I would say that I'm definitely calm and definitely positive and I'm definitely somebody who would not change myself for anything. In that sense, yes, Tanya is much more clueless so yeah.
IBTimes India: Is there an interesting story behind you getting this role for the web-series?
Nityaami: Yeah, it was quite crazy. So, basically my picture was shown to Ashima and she initially said no to me because they had somebody like Kareena Kapoor in mind and when she saw my picture she didn't think that the look matched but then she was like you know what, let's make her do the audition anyway. So, I gave my first audition, which she loved. She saw something in that and made me do a couple of more auditions. She absolutely loved that as well and that obviously went to Ekta. Ekta was happy with that as well so then they went forward and that's how I got it.
IBTimes India: What changes would you prefer making in the country if you actually get this chance?
Nityaami: So, basically what's really close to my heart would have to be poverty. I think if I become a prime minister then I would make education available to every child.
IBTimes India: Will this show be a breakthrough in terms of destroying certain stereotypes?
Nityaami: I really hope so. I really really hope so. I mean ya she is a girl who is young and is the prime minister. I think it is more than a time that we break all kinds of stereotypes like this. And she really does. Initially, she comes across as a person who is absolutely clueless and in vain, but the way she grows on you and the perspective she brings and how she solves problems THAT is the beauty of it and I think That is an eye-opener for us, I hope it is an eye-opener for a lot of people.
IBTimes India: You are a professional dancer trained under Shiamak Davar. So, what made you change your career to acting?
Nityaami: Dancing was never a profession for me, it was something that I did take up and I was doing that throughout my school life but actually I graduated in neuroscience and I'm a major in psychology so that's initially what I was supposed to do but that was the path I ended up taking but when I got to Mumbai, acting wasn't on the card but a few auditions happened and I ended up going into this. I started off with TV commercials and one thing led to another and this happened.
IBTimes India: Do you have any goals set for stepping into Bollywood?
Nityaami: Definitely, the main thing is to get a script that I love, a character that I really want to play like I really love this script. I'm not particular about any such medium but yes it will be amazing to get a film.
IBTimes India: The last question would be a little personal. So, is there anyone special in your life right now?
Nityaami: Haha...Nobody! I'm very much single but I don't know if I'm ready to mingle...