Legendary Indian all-rounder Kapil Dev has said India need to continue doing what has been working for them so far in home conditions without thinking about failures in the past when they begin their long overseas season with a trip to South Africa early next year.
India lost four successive Test series between 2013 and 2015 against top teams — South Africa, New Zealand, England and Australia.
Notably, the Asian giants have not won a Test series away from home against any of the top teams since they clinched a three-match series in New Zealand 1-0 way back in 2009.
While bowlers, pacers and spinners alike have struggled in the past, the 2014 tour of England exposed Indian batsmen's weakness in swinging conditions. Kohli himself acknowledged that his struggles against the English pacers in the five-match series was nightmarish.
Notably, the Delhi batsman, who was the batting leader of the team that was in transition following the retirement of Sachin Tendulkar and Rahul Dravid, managed only 133 runs over five Tests and kept throwing his wicket away to balls that left him outside the off stump.
'Think positive'
However, ever since Kohli took over as captain in the longest format of the game, India have not lost a single series at home. The Test season of 2016-17 saw the Number One-ranked side crush the likes of New Zealand, England and then world champions Australia. They also whitewashed Sri Lanka on the road earlier this year.
"They [Indian team] should just play the way they are playing today. They don't have to think about the struggles of the past. They have to remain positive," Kapil told International Business Times India in Bengaluru on Saturday, November 4.
Also read: These THREE cricketers changed Indian cricket forever: Kapil Dev to IBTimes India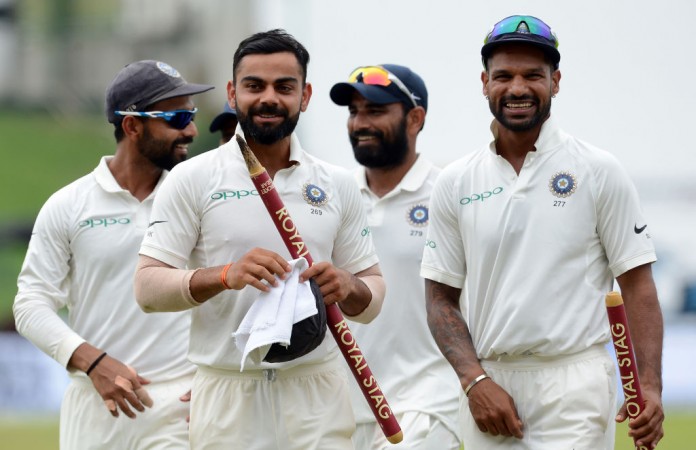 Captain Kohli and batsman Kohli will excel abroad

Kapil also said he was confident of Kohli leading the team with the bat in overseas conditions. Notably, the 29-year-old silenced his critics after the drab show in England with four back-to-back centuries against Australia Down Under during the 2014-15 tour.
Kapil also heaped praise on the way Kohli has been handling his pacers. The likes of Mohammed Shami, Umesh Yadav, Ishant Sharma and Bhuvnehswar Kumar are going to be crucial to India's chances abroad and all four of them so far have repaid the faith their captain has been showing in them.
However, the World Cup-winning India captain was not willing to compare Kohli's captaincy style to that of Dhoni's when it came to managing fast bowlers.
"I don't think we have to tell tell Kohli what to do. He is smart enough. He will adapt to different conditions," Kapil said.
"We can see that, as long as he keeps winning, he is the best [when it comes to handling pacers]. At the moment he is doing so well. There is no need for a question mark in our mind."
Shastri is a good manager
Meanwhile, Kapil also had a word of praise for Ravi Shastri, who took over from Anil Kumble as head coach of the Indian team earlier this year.
The 58-year-old lauded his former teammate's man-management skills, which according to him is an important aspect in modern-day cricket.
"I think he [Shastri] is a good manager. His man-management skill is very important. The captain is happy, he is happy. Both of them are doing a good job. It's good for the team," Kapil said.