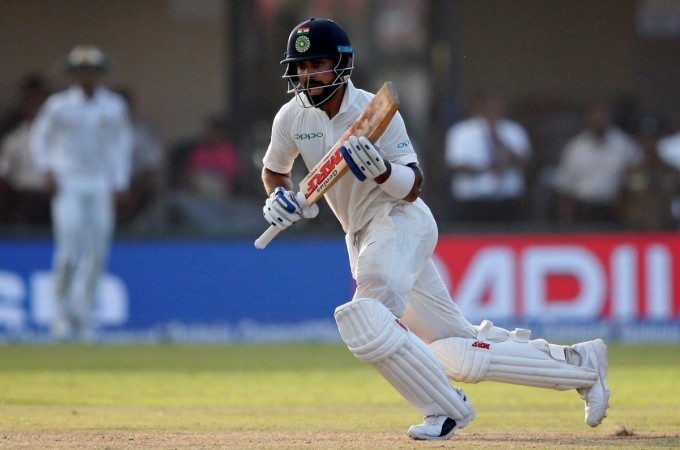 Legendary wicketkeeper Syed Kirmani today (January 2) praised Indian captain Virat Kohli as an "amazing individual" and backed him to succeed in the three-Test series against South Africa.
The year 2018 will be a challenging one for Kohli as he leads India in overseas Tests, starting in South Africa. The opening contest is in Cape Town from Friday (January 5).
Also read: Kirmani blasts Agarkar
Kirmani said he had never seen a cricketer like Kohli, who has already hit 52 tons in international cricket. He felt the Delhi right-hander is on track to break Sachin Tendulkar's records including 100 centuries.
"He (Kohli) is such an amazing individual. I have never seen such a player in my era or in any other era of cricketers with such amazing consistency. The entire country is looking upon him to maintain the same consistency and come out winning in South Africa," 68-year-old Kirmani told International Business Times, India on Tuesday.
The Bengalurean, who played 88 Tests and 49 ODIs, added, "He is on track to break all those individual batting records. By the way, records are meant to be broken. According to me he is shaping to be a legend of Indian cricket."
Kirmani, the 1983 World Cup winner, felt Kohli and Australian skipper Steve Smith, two of the best batsmen in modern era, should not be compared.
"There is no comparison between the two (Kohli and Smith). They both have different styles, approaches, minds. There is no comparison between any two individuals," he said.
On the South Africa Test series, Kirmani felt it will be a "challenging" one and said it is "difficult" to predict a winner.
"It will be a challenging series. Both sides have competent players. It is very difficult to predict who will win the series. With India being the number one Test side in the world I would like to support my country to win. I wish them the very best of luck.
"Let 2018 start with a bang with a victory over South Africa in the Test series. This is my wish to them but at the same time they are in a country where they will have sporting wickets with good bounce. We have young side which can combat any condition. Absolutely they will do a great job. They are well equipped," Kirmani said.