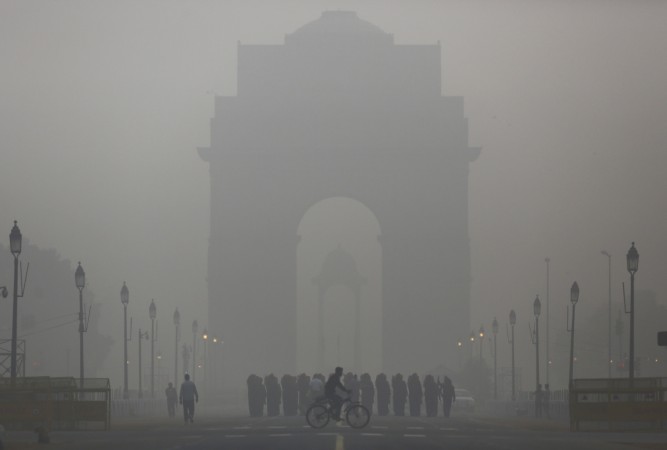 Here are a few stories from International Business Times India to end your day with:
1. Indian cities turn gas chambers after Diwali; Delhi worst affected by air pollution
Delhi recorded high levels of pollution on the morning after Diwali even as thick smog hung in the air and visibility was affected. Particulate Matter or PM 10 concentration stood at over 1,600 micrograms per cubic metre, whereas the safe level is at 100 mg/cubic metre, around 2 am in Delhi's Anand Vihar. Near the US Embassy area in New Delhi, PM 2.5 was up to 999 and in RK Puram it was at 643. Read more...
2. Indian engineering students create hands-free distress caller; can send SOS
Four Indian engineering students have developed a wearable device that can detect panic and send SOS messages. The group was earlier working on a brain mapping platform at the Centre for Neurosciences at the Indian Institute of Science. But they altered the project to make a product that would help women in distressing situations. The device is a wearable, earphone-like electroencephalogram (EEG) called Neurobuds. It acts as an interface between the user's brain and a smartphone. Read more...
3. Salman Khan's bodyguard Shera gets clean chit in assault case
Salman Khan's bodyguard Shera has received a clean chit in the assault case filed by Attar Umar Qureshi. Police investigation brought out evidence that proved that it was a false complaint lodged with the intention to extort money. Qureshi had alleged that Salman's bodyguard broke his collar bone by hitting him with the back of a pistol after they had an argument on phone on October 25. A case was filed against Shera, following which he was detained by the police and charged under IPC sections 326, 503 and 504. Read more...
4. Isis target children in Mosul with booby traps in toys and teddy bears
Mosul has been a battleground for a while now with a raging war between Isis and Iraqi forces. A few days ago it was reported that Isis was using thousands of people as human shields and now it's said that the group is using children's toys to hide bombs. A report in The Daily Mail states that the Isis' latest ploy is to use to hide bombs in kids' toys and teddy bears. As soon as these toys are touched, the bomb or improvised explosive device (IED) would detonate. So, it looks like Isis is targeting children now as well. Read more...
5. Clinton emails: Scandal could cost Hillary the election, as Trump closes gap rapidly
As the FBI announced that they were opening a new investigation into the Clinton emails, things started unravelling in the Clinton election camp. According to The Guardian, by Friday, the combination of no news from Trump and bad news from Clinton had halved her average lead in the polls since the last presidential debate. Read more...