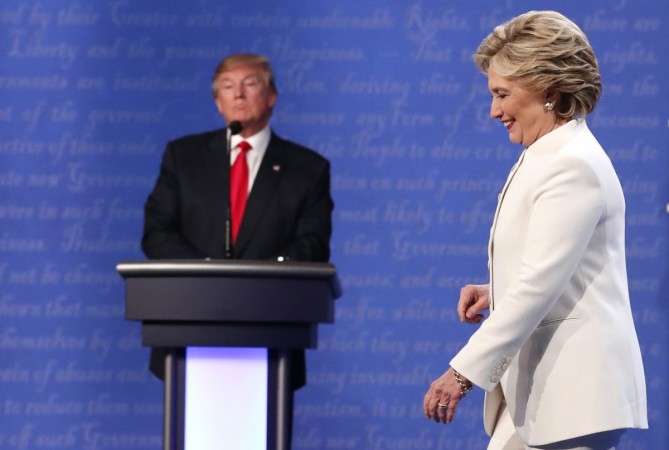 As the FBI announced that they were opening a new investigation into the Clinton emails, things started unravelling in the Clinton election camp.
According to The Guardian, by Friday, the combination of no news from Trump and bad news from Clinton had halved her average lead in the polls since the last presidential debate.
"When the attention was on Trump, Clinton was winning. Now, the attention is on Clinton," political consultant Frank Luntz, who has predicted the winner in 2016 will be the campaign that keeps the focus on its opponent, told The Guardian.
Sunday's average lead for Clinton in national polls of 3.4 percent ought still to be a healthy safety margin. Bill Clinton's lead over George Bush shrank from 11 points to just three in the last two weeks of the 1992 election, yet he won by nearly double that margin.
But among Democrats, a cause for concern – if not yet panic – is that very few polls published so far were carried out after news broke about the FBI and the emails.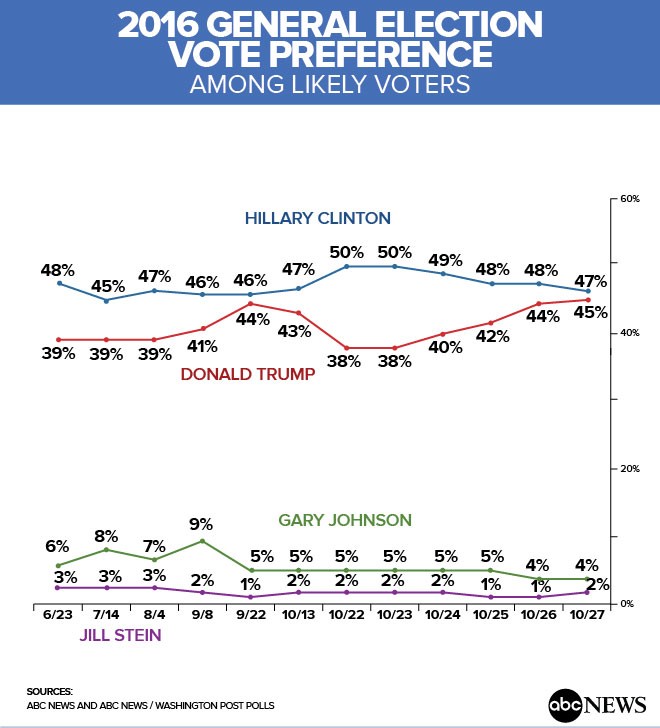 The British newspaper reported that one reputable survey that got close, an ABC News-Washington Post tracking poll released on Sunday, showed just a one-point overall lead for Clinton. It asked some voters on Friday evening what they thought and found the news had mostly hardened existing opinions, but could also play a role at the margins.
"About a third of likely voters say they are less likely to support Clinton given FBI director James Comey's disclosure," said pollster Gary Langer. "Given other considerations, 63 percent say it makes no difference."
Only 7 percent of Clinton supporters felt it would make any difference, but this rises "much higher among groups already predisposed not to vote for her," the poll found.
Beyond the national polls, Slate reported that there are also other state-specific surveys that are unlikely to be making Clinton's campaign very happy.
There are two polls that show Clinton's advantage in Florida has declined markedly. An NBC News/Wall Street Journal/Marist poll shows her with a one-point lead in Florida while a New York Times/Siena poll has even worse news for Clinton as Trump is ahead by four points -- 46 percent to 42 percent.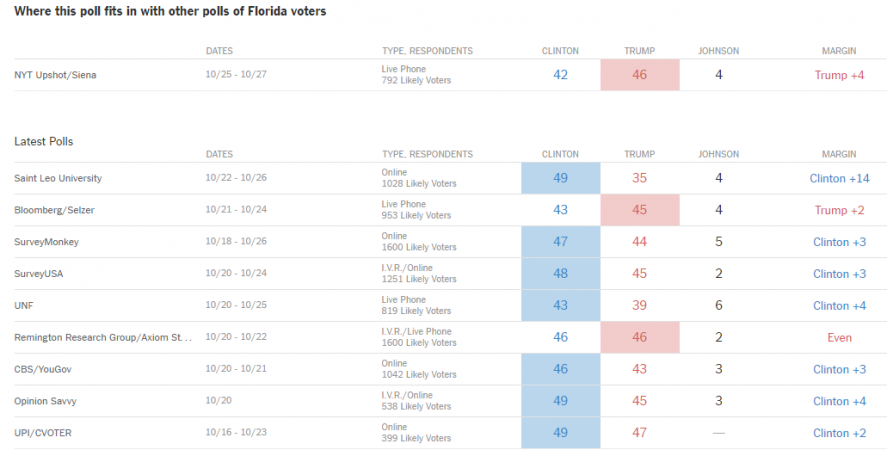 Slate, however, reports that Clinton could take solace in other battleground states considering she is still clearly ahead in Pennsylvania, North Carolina, and Colorado, according to the CBS News Battleground Tracker.
It's difficult to see how Trump could open up a path to victory while losing both North Carolina and Pennsylvania, notes Politico.