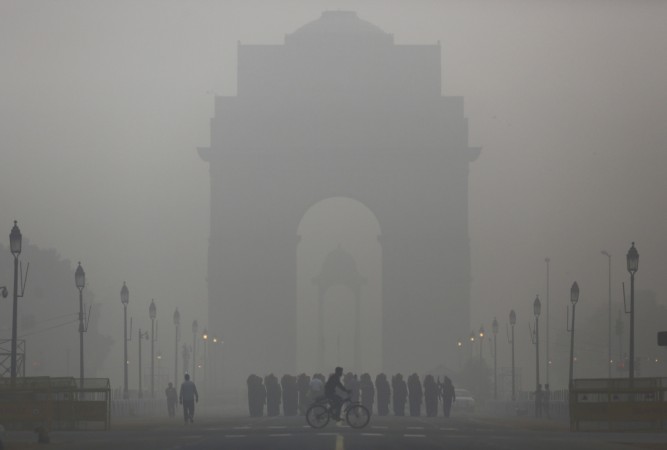 Delhi recorded high levels of pollution on the morning after Diwali even as thick smog hung in the air and visibility was affected.
Particulate Matter or PM 10 concentration stood at over 1,600 micrograms per cubic metre, whereas the safe level is at 100 mg/cubic metre, around 2 am in Delhi's Anand Vihar. Near the US Embassy area in New Delhi, PM 2.5 was up to 999 and in RK Puram it was at 643. The other measure for air quality — PM 2.5 — was 14 times the safe limit, according to Central Pollution Control Board data. PM 2.5 level near Anand Vihar was at 702. The air quality in Delhi and other northern cities like Kanpur and Lucknow were at "severe" at 7 am on Monday morning.
Other cities like Mumbai and Kolkata recorded lower levels of PM 2.5 and PM 10 levels after Diwali due to strong winds and showers.
In Mumbai, air pollution was in the "poor" category with AQI of 274 (poor) on Sunday morning that later dropped to 269 (poor). In two places, Malad and Andheri, AQI levels were at 311 and 306. Navi Mumbai was in the "very poor" category with AQI at 309, for the third day in a row.
"As of now, our prediction stands. However, we observed an increase in wind speed on Sunday, which is expected to continue on Monday. This will lead to a dispersion of pollutants faster and the AQI levels could be less than what has been predicted," Neha S Parkhi, senior programme officer, System for Air Quality Weather Forecasting and Research (SAFAR), told Hindustan Times.
Kolkata was relatively easier on the respiratory systems of its citizens, with maximum PM 10 recorded at the Budge Budge station at 277.3 on Saturday. At the other monitoring point in Victoria Memorial Hall, PM 10 went above the safe limit at 11 pm and stood at 143.
However, PM 10 levels dropped into safe level after drizzle on Sunday.
The maximum level of PM 2.5 recorded in Kolkata was 378, and falls in the "unhealthy" category.
In Ahmedabad, PM 2.5 level stood at 999, in Pune PM 2.5 and 10 was at 400 and 268 respectively. In Lucknow, PM 2.5 was at 834, and Bengaluru noted AQI at "moderate" level with PM 2.5 at three times the safe limit.