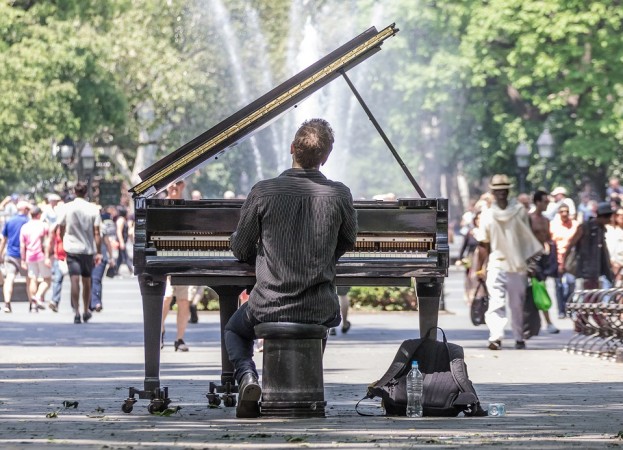 Admittedly, "Stellar" is one of the lesser known bands in the Kpop scene. Their four year existence in Korea's music industry is often marginalised by other famous girl bands such as Girls' Generation, T-ara, Wonder Girls and more. However, when members of "Stellar" released their MV "Marionette" in 2014, it grabbed the attention of almost everyone in the country.
Today, the all-girl, four-member band is partly successful, and for the time being, they will not be forced to disband. But band members reveal that their fame has come at price. According to them, their label forced them to wear skimpy clothes and even asked them to "dance with thongs."
On a recent airing of MBC's "Human Documentary People Are Good", band member Gayoung said: "At first, the label told us to try dancing with thongs. But it's impossible to dance in thongs," reported Allkpop.
The emotionally charged segment exposed the struggle of new and upcoming artists who are still finding a way to establish themselves. "We thought that at least by doing [this concept], we could at least get people to watch our music video once and maybe they'd find themselves humming our song, and that they could decide to return to give us another listen," the band members added.
"Stellar's" journey has been painful for the girls. In an interview with No Cut News, band member Minhee spoke about the filming of their 2014 hit song, "Marionette."
Minhee said,"The script just said, 'Lie in bed then sit up' 'Drip milk while you drink as you long for someone'. We were shocked after we learned what all these references had meant, " reported Allkpop ( via No Cut News).
Although "Marionette" depicted the girls in very revealing outfits, it helped launch them into the Kpop scene. The success of the song enabled them to buy a car, find a dorm, and even book a practice room.
"Stellar" made two comebacks after "Marionette" but it didn't work for them. However, their new MV, released in July 2015, "Vibrato" is popular again. The song depicts the girls gyrating in fishnet stockings, and is quite risqué.
But "Stellar" members say that projecting themselves as sex idols is one of the drawbacks of working in an entertainment agency that isn't as famous as SM or YG. "If a group is not from a large-scale agency, it's hard to gain attention even if the song and concept are great. Because this is reality, it's pitiful when we see teams from other smaller agencies also decide to take on sexy concepts to become successful," said band member Hyoeun.
Watch a clip from MBC's "Human Documentary People Are Good" below: