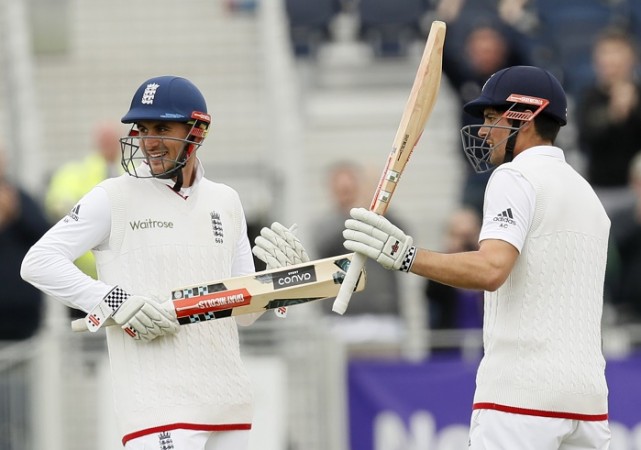 It was a historic moment for England Test captain Alastair Cook as he reached the milestone of 10,000 runs during the England vs Sri Lanka 2nd Test at Chester-le-Street on Monday. He became the first England cricketer to achieve this feat.
Cook also broke Sachin Tendulkar's record as the former became the youngest overall to reach that landmark in Test cricket. Tendulkar had set the record in 2005 when he was 31 years 10 months and 20 days old, whereas Cook is 31 years 5 months and 157 days old.
"It's a very special moment for me, but the game is not about personal milestones, it's about winning games and scoring runs to do that," Cook was quoted as saying by AFP.
Tendulkar is the highest run-scorer in the longest format of the game and has 15,921 runs next to his name. When Cook was asked whether he is eyeing that milestone, he said that he is yet to set a target.
"Who knows? I never thought I would get 10,000. Now I will have to have a rethink and set something else personally," Cook said.
Graham Gooch, who is the second highest run-scorer for England and also Cook's mentor, congratulated the latter after reaching the coveted 10,000 runs club.
"It's not just about the runs you score, it's about how many matches you win for your team and he's been at the forefront of that for the last decade. He's a guy that gets the job done. He's an old-fashioned sort of Test player," Gooch said.
The 11 other players who have already achieved this feat before Cook are Tendulkar, Ricky Ponting, Jacques Kallis, Rahul Dravid, Kumar Sangakkara, Brian Lara, Shivnarine Chanderpaul, Mahela Jayawardene, Allan Border, Steve Waugh and Sunil Gavaskar.
Cook was lauded by the entire cricketing fraternity after he hit his 10,000th run in Test cricket on Monday.