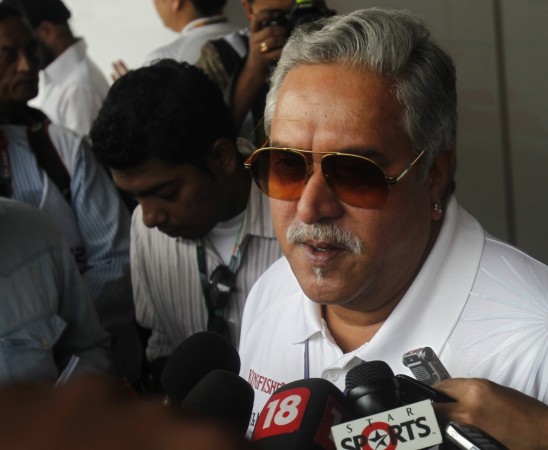 The Enforcement Directorate (ED) issued fresh summons to Vijay Mallya, asking him to appear before April 9 in the ongoing money-laundering case. Mallya was first supposed to appear before the ED March 18 but sought time till April 2 and later up to May, ANI reported.
The summons were first issued March 18 under the provisions of the Prevention of Money Laundering Act (PMLA).
The chairman of now-defunct Kingfisher Airlines (KFA) is under trouble after failing to repay loans to the tune of about Rs. 9,000 crore taken from various lenders, mainly public sectors banks such as State Bank of India, Punjab National Bank and IDBI Bank.
Mallya, promoter of United Breweries ((UB) Group, is a member of Indian Parliament's Upper House (Rajya Sabha) and is currently in London, having left India March 2.
The consortium of lenders led by State Bank of India has sought the Supreme Court's intervention to prevent Mallya from leaving India, besides seeking a stay on the $75 million severance money United Spirits had agreed to pay to Mallya as part of a deal wherein he stepped down from the chairmanship of the Diageo-owned company February this year.
Recently, Mallya had offered to pay Rs. 4,000 crore to lenders by September this year.
Mallya's failure to pay dues to lenders had prompted Indian Finance Minister Arun Jaitley to say that he discredited both himself and the Indian private sector.
"He has not only brought himself a bad name, he has also brought a terrible name to private sector entrepreneurs in the country," he said at an event in Mumbai, PTI reported last month.
Mallya's flamboyant lifestyle also came in for flak from Jaitley, who asked, "How long can you lead a life like this?"
Besides lenders, Mallya's KFA also owes money to other Indian authorities and employees of the air carrier. KFA owes about Rs. 300 crore to its employees who had planned to move the Supreme Court to recover their unpaid wages.