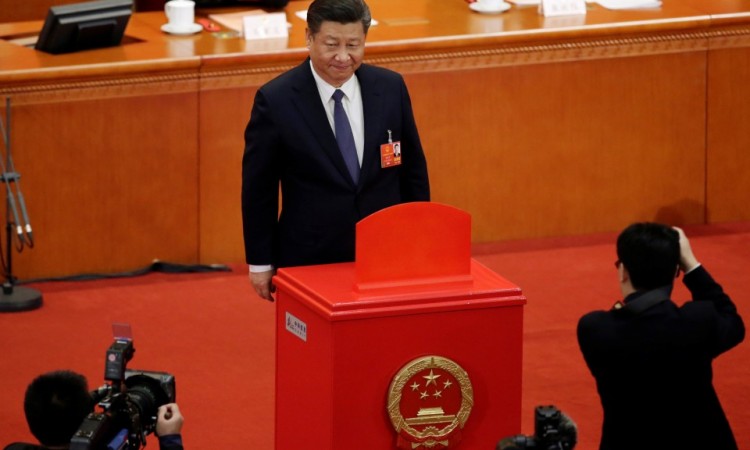 China has always been an empire but it lacked an emperor in recent decades. Now they have Xi Jinping. Mao Zedong was the other Communist ruler who had come close to attaining that status. On Sunday, the Chinese parliament passed a constitutional amendment that removed presidential term limits, paving the way for the current incumbent to become leader for life.
Xi made it to the dizzying heights of the party monolith, powered by a ruthless campaign against dissidents, rivals and pretenders that was conveniently masqueraded as an anti-corruption drive. He brought personality cult back to the party and used the government's infinite powers to censor all channels of media and thus control the public psyche.
This is a historic moment for China, and the country's shift from one party rule to one man rule has great implications for the region. Xi has always been uber-powerful and his political graph was always rising, Yet the voting pattern in the parliament was a revelation -- his claim to perpetual leadership was endorsed by 2,957 members while two voted 'no' and three abstained. The National People's Congress is the largest parliamentary body in the world but its great size stands in an inverse relationship to the diversity in opinion.
Now that the Mao-era style of rule has returned to China, how is it going to impact the countries in South and Southeast Asia? Mao had near totalitarian powers and had enshrined himself into the pantheon of great, historical Chinese rulers by dint of an open personality cult. His successor, Deng Xiaoping, moved the country away from that model and put the spotlight on the original 'communist' principle of collective leadership. Now, Xi has changed that for good.
Xi's elevation to the top layer of power in the Communist Party and the country of 1.4 billion people in 2012 was followed by quick and certain consolidation of power that verged on authoritarianism.
Does a move from collective rule to one man rule impinge significantly on Chinese policy matters affecting neighbors such as India? The general consensus is that Xi's consolidation of power is essentially a Chinese national issue with no significant spillover impact on the region. There's also a view that a stronger and well settled Xi is less of a problem for his neighbors, such as India. The logic is that Xi, now that he has wrested servile support and unquestionable mandate from his people, doesn't have to play to the gallery to keep his perch safe.
This line of thinking believes that China under Xi will be a more somber neighbor, driven less by a need to resort to military expansionism. That the China under Xi will be stoically fixated on the goal to becoming the sanguine economic powerhouse that it has pledged to become buy 2050. That China will tone down its maritime disputes with more than half a dozen neighbors, that it will go slow on reclaiming land in the disputed South China Sea and militarizing them, that it will adopt a less aggressive posture in its expanding influence zone in the Indian Ocean. By extension, this optimistic line means that a self-assured China under Xi will trade peace with India over festering flashpoints such as Doklam and Arunachal Pradesh.
However, these hopes are misplaced. This logic works better in the context of India-Pakistan relations. A stronger Pak leader with long-term mandate and grip on power is better for India-Pakistan peace than a tottering regime or one on the brink of a collapse. However, the China equation is far different. A China with a single-minded leadership and without internal squabbles to worry about is essentially expansionist in nature.
Here's where the 'empire' analogy comes handy. Xi's "cold-blooded elimination of rivals and the imposition of his personality upon the country more than matches the ambition and ruthlessness of some of China's most distinguished historical leaders," said an Asia commentary in South China Morning Post last year.
For India, there is much to worry about a dictatorial rule by Xi Jinping in China. The ominous ring of 'String of Pearls' has been tightening around India since Xi became president in 2012. There's no respite from the Dragon's stiffening clutch. The thrust and parry between China and India for dominance in South Asia has obviously become a lopsided geopolitical game. From convincing the Afghans to let it open a military base there to gobbling up strategic real estate in Pakistan and Sri Lanka and from weaning Maldives away from India's sphere of influence to stamping its foot its Nepal, China has made deep inroads.