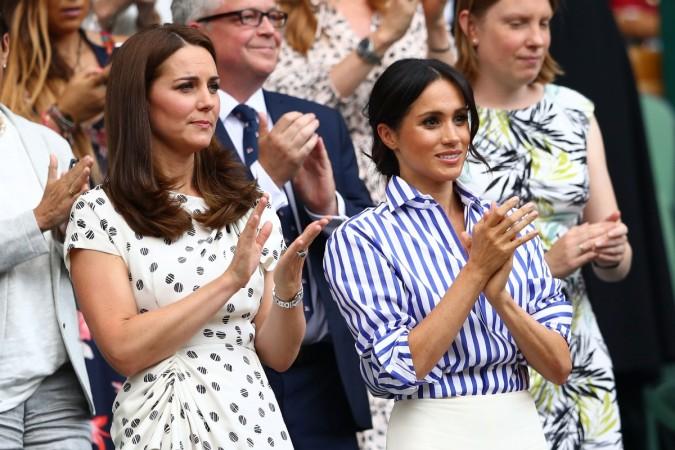 Kate Middleton and Meghan Markle came together to support their friend Serena Williams at the women's Wimbledon final on July 14. The ace tennis player was defeated by Angelique Kerber and this got the Duchess of Sussex emotional.
The 36-year-old American lost 6-3 6-3 to Kerber in the finals. Williams was hoping to win her 24th Grand Slam singles title 10 months after she gave birth. However, things did not work out in her favour. Her loss at the tournament brought Meghan to tears.
A video from the court shows Williams talking to the journalist and in the background, Meghan stands fighting back her tears expressing her disbelief over her defeat. Kate also stood beside Meghan and looked disappointed at the outcome.
It is no secret that Meghan and Serena are close friends. There were speculations that the sportswoman could be one of the bridesmaids at the royal wedding, which took place on May 19. Williams was present at the Harry-Meghan wedding but not as the bridesmaid.
Apart from Meghan, Williams' husband too was heartbroken by her Grand Slam defeat. Alexis Ohanian, who was seated in the crowd and cheering the loudest, got extremely emotional by the result of the match and took to social media platforms to show her all the support.
He wrote, "Our family knows she'll win many more trophies, too. She's just getting started. And I couldn't be more proud."
Williams was making her way to the series 10 months after Olympia's birth. The international player underwent a series of lifesaving surgeries. "That was an amazing feeling. And then everything went bad," Williams told Vogue this year.
Williams experienced blood clots in her lungs a day after she gave birth. This caused cough fit which reopened stitches and she was rushed into an immediate surgery. Talking to BBC about the surgery and her time in Wimbledon this here, here's what she said:
I had to have multiple surgeries and almost didn't make it, to be honest. I remember I couldn't even walk to my mailbox. So, it's definitely not normal for me to be in a Wimbledon final.
Check out Meghan Markle fight back tears over Serena Williams' defeat video here: