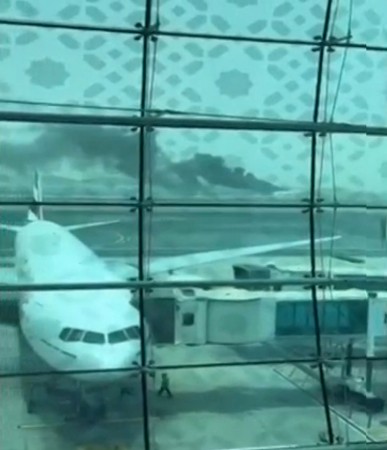 An Emirates flight on Wednesday crash-landed at the Dubai international airport, sparking widespread scare among people. Here is everything we know about the incident so far:
An Emirates Boeing 777-300 A6-EMW aircraft made an emergency landing at the Dubai International Airport on Wednesday.
Emirates confirmed that the incident happened at 3:45 p.m.
It was flying from Thiruvananthapuram to Dubai.
It had 282 passengers and 18 crew members on board, all of whom were evacuated safely.
Of these 226 are said to be Indians.
However, one of the firefighters who battled the blaze is said to have died.
Those at the spot said they saw thick smoke coming out of the aircraft.
Later, videos emerged showing a blast on the plane as it lay on the runway.
Firefighters rushed to the spot to control the blaze.
The European Organisation for the Safety of Air Navigation (Eurocontrol) said the Dubai airport would not accept air traffic until the situation cleared, with all incoming flights diverted to nearby airports.
Also: See how Emirates flight evacuation was delayed by Indians who risked their lives for to their bags