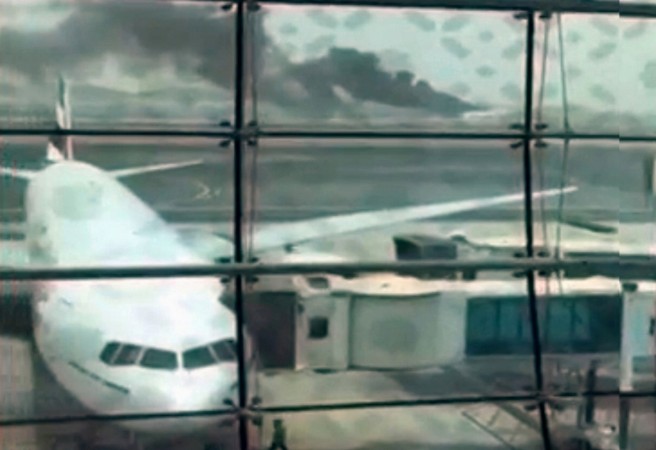 A day after Emirates flight EK521 crash-landed at the Dubai International Airport on Wednesday, a video has emerged of what happened inside the plane in the immediate aftermath of the landing. The video shows evacuation of the aircraft was delayed by Indians who were too busy taking out their luggage from the overhead compartments, despite repeated requests to the contrary from the airline crew.
The video, shot on a mobile phone and uploaded online, is just over two minutes long, and begins with a lot of agitated people shouting within the aircraft. The petrified cries of infants and children are also heard in the background. A lot of conversation follows this — mostly in Malayalam. It may be noted that the flight was from Thiruvananthapuram to Dubai, and of the 300 people aboard it, 226 were Indians.
Even as the cabin crew struggled to get the gates open, people were heard urging each other to get their baggage out of the overhead bins, despite smoke visibly starting to fill the aircraft. Someone is even heard saying in Malayalam: "Get the laptop!" He is heard repeating: "Laptop! Laptop!!"
About a minute later, one of the men among the crew members on the flight is seen rushing back to urge the passengers to "leave your baggage behind" and "come back" for them later. He has to shout this several times for those who had stayed back.
As the recorder of the video proceeds towards the exit, a woman crew member is heard urging the passengers: "Jump [on] the slide!" After they make their way to the bottom of the slide, the camera turns towards the fuselage of the aircraft, where flames are seen near one of the tyres.
Although none of the passengers or crew members died in the incident, one of the firefighters who battled the blaze that erupted after the Bowing 777 crash-landed was killed. Whether his life could have been saved if there had been no delay in the evacuation of passengers aboard the flight is a big question now.
Watch the video here:
Meanwhile, Indian carrier IndiGo on Thursday cancelled all flights out of the country to Dubai because of unavailability of runways at the Dubai International Airport.