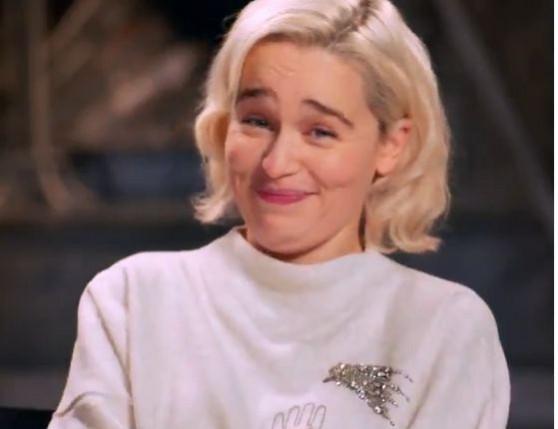 Game of Thrones star Emilia Clarke was reportedly considered to star alongside Robert Downey Jr. in MCU's Iron Man 3 movie. If this could have happened, then Emilia could have gotten her very own Marvel fandom.
Earlier today, Iron Man 3 co-writer, Drew Pearce dropped some huge trivia about his time working with Robert Downey Jr.'s Marvel movie. In his Instagram post, director Pearce posted a picture of himself a script read for the very first script of Iron Man 3. In the caption, he wrote "Downey, Cheadle, Emilia Clarke (long story, the script changed)..."
It means that in the very early discussions of Marvel's Iron Man 3, there was a character written for Game of Thrones star Emilia Clarke. Since there is no more information about the part, we can only guess as what Emilia was supposed to play in Iron Man 3 movie.
It was well speculated that the script of Iron Man 3 went through several changes before it was finalized for the production. Many have even stated that Maya Hansen was originally intended to play the main antagonist in the movie. The role was played in the movie by Ellen Brandt and if you remember Iron Man 3, you might recall that the part was too small that one could wonder why the actress was brought in for a script read if she was not the principal character.
Meanwhile, Drew Pearce cleared the air by commenting on his own post by stating the following:
"To those of you wondering: when you do early table reads, a lot of the new roles aren't cast, will change etc. Friends of the production come in to help out, just so you can hear the words out loud, even if they're not the person who'd play the role onscreen due to age etc. Emilia, only one season into GoT at the time, kindly sat in. And was great, btw."
Well, Emilia Clarke debut in the Marvel world did not happen for some reasons but fans were pleased to see her portraying the role of Daenerys Targaryen in HBO's Game of Thrones for eight seasons. Emilia played the character gracefully and in the years to come, we are going to remember her last speech which she gave to her Dothraki clan.
In addition to this, Emilia Clarke was once considered to star as Anastasia Steele in Fifty Shades of Grey movie. As earlier reported, the acclaimed actress denied the role because of the nudity.
After Game of Thrones, Emilia has several interesting projects lined up. In 2019, she is going to star as Kate in the upcoming rom-com movie, Last Christmas. She is also set to share screen space with Jack Huston and Sophie Lowe in Phillip Noyce upcoming thriller movie, Above Suspicion.