Anorexia survivor Emelle Lewis is evolving to be a vivid proof and inspiration for people who struggle on a daily basis due to eating disorders.
Now sharing photos of her remarkable journey, Emelle who claims she is doing it in a bid to inspire others affected by the same disorder, was herself in the darkest place not so long ago.
Also read: Social media blamed for rising eating disorders among teens
The 22-year-old weighed just five stone when her illness had peaked, and there was a time when she would refuse to even sit down, in the hope of burning calories. That's how devastating her torture with the eating disorder was.
She said: "It started in high school when I wanted to lose weight because I always felt fat growing up. I always found it hard to fit in, and when all my friends were getting boyfriends at that time but I didn't, I began to think it was because I was fat and ugly."
Emelle admits she did join a gym, but the lack of weight loss even after months made her start throwing up, and that is from where it "spiralled out of control" and she "ended up being hospitalised seven-times over the years."
She said, "When I was ill, I didn't believe there was anything really wrong with me. I genuinely believed I could maintain at that weight and still live a fairly normal life. I didn't want to get rid of my eating disorder."
"I refused to comply with treatment and was convinced that everyone was against me, lying to me and trying to ruin my life. I didn't really feel that weak because my body had adapted to my low weight, however, the thing that got me the most was the cold. I was so cold it was painful."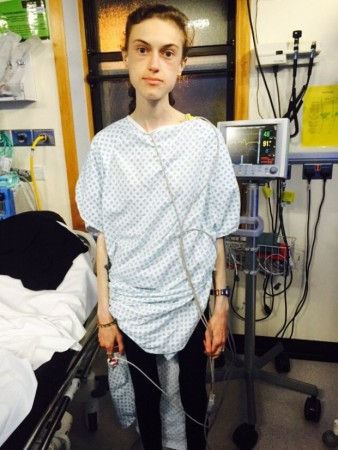 As shared by her, the turning point arrived when one night, Emelle realised this wasn't what she wanted her "story" to be. And after coming across multiple Instagram accounts about people who have been able to overcome the disorder, Emelle admitted to her mother that she wanted to get better: starting with weight training.
"I was also terrified because I thought, 'what if I fail?' I would feel embarrassed if I told everyone I was going to recover but then gave up half way," Emelle shares, were her initial concerns.
But, she also spills, "Despite relapsing seven times, my mum always believed in me and was willing to do everything to help me recover."
"However, my dad and my doctors and psychologist were a bit unsure and thought that it would just be like all the other times where I said I would get better but didn't. The need to prove people wrong was another factor that gave me the motivation to recover."
At a healthy 8st 9lbs weight now, Emelle eats six balanced meals a day and lifts weights in the gym. "Now, I still have bad days towards my body image but most days I am proud of what I have achieved and proud of my body."
"Overcoming this illness has now made me such a strong person mentally, I see the world through different eyes."
And as for beating the disorder, Emelle reveals, "Anorexia tricks you into believing that you don't want to get better, that there is nothing really wrong with you. The best way to overcome this illness is realising that these thoughts are not you and they are a caused by something else that is not your friend."