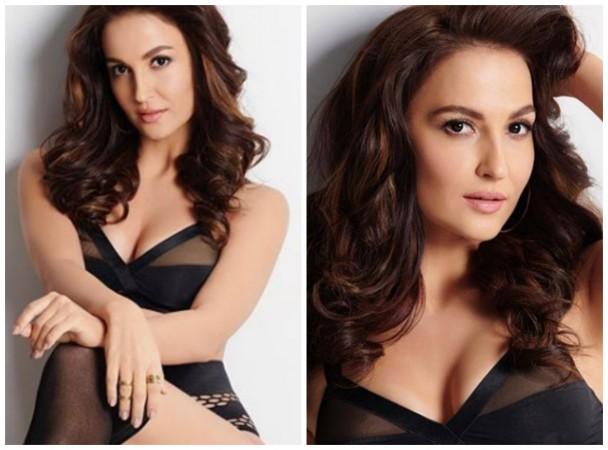 Elli Avram has shot for ace photographer Dabboo Ratnani, and the outcome is just pure hotness. The tinsel town diva, who is rumoured to be dating cricketer Hardik Pandya, flaunted her sexy curves to perfection in a lingerie.
This is not the first time that Elli has stunned her fans with her sheer beauty. But this photoshoot is certainly one of the hottest. The Mickey Virus actress has one of the sexiest bods in the industry, and these latest photos validate it.
She made a very interesting caption while sharing the pictures as well. She asked her fans if they had ever loved a woman, and if yes, asked them to mention their lady loves' names in the comment section.
"So tell me have you ever really, really really loved a woman? Have you guys? Tag your love or write her name with a heart! [sic]," she captioned it.
Many of her followers obliged to her request, and mention the names of their loved ones. However, some of the fans expressed envy for Hardik, suggesting that the cricketer has got such a beauty as his girlfriend. There are a number of comments on Elli's photo, wherein fans called Hardik "lucky".





The rumours of Elli and Hardik's romance started after the two were spotted together on multiple occasions. In two instances, Elli was seen desperately trying to hide her face from the paparazzi when spotted with the sportsman.
Although she never admitted being in a relationship with Hardik, she never denied it either.
"Let them [people] be curious in life. Why do I need to clarify anything? By talking about these rumours, I'd just be giving more fodder for gossip. Anyway, so many wrong things have been written over the years but I've never gone out and clarified. Once you become a known face, people will follow you for gossip and news. But, we are not going to lock ourselves up. So, you can't do much to stop these rumours. People have such strong mentality that no matter what I say, they will be like, 'Oh, she is lying. We know the truth. She is hiding something," an entertainment portal had quoted Elli as saying when asked about dating Hardik.